AGF11000
Working Horses Need Strength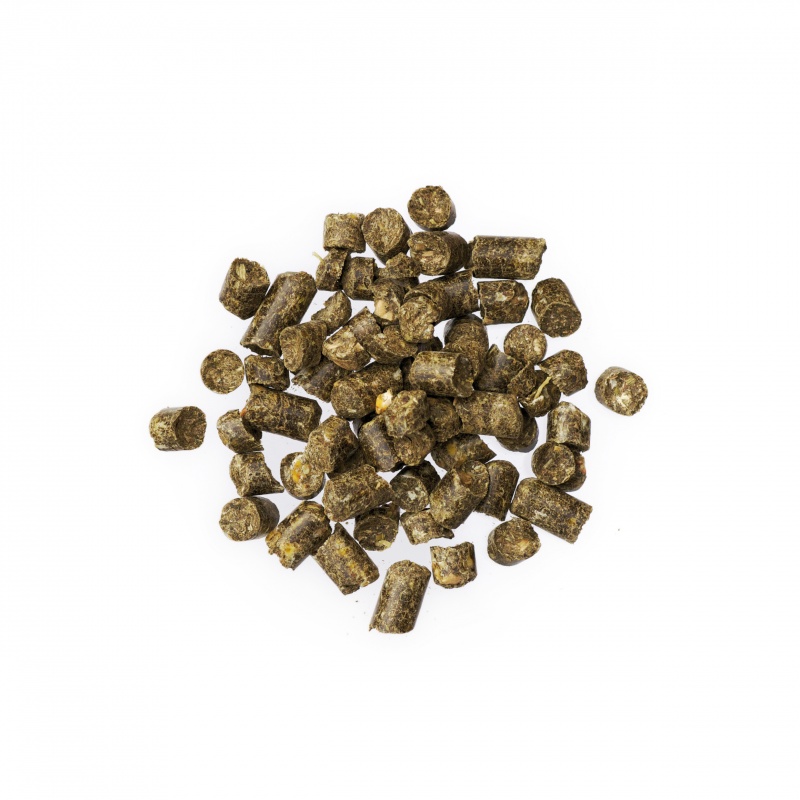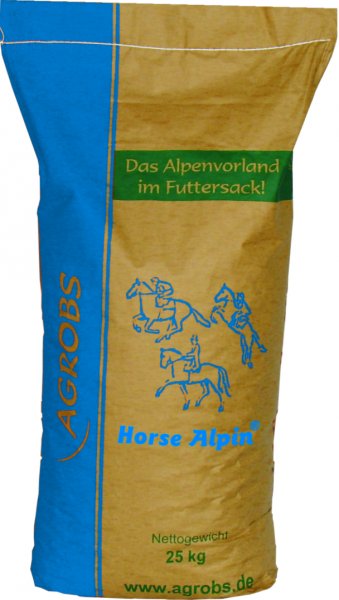 easy-digestible PRE ALPIN® dried green fibres in combination with broken down maize, barley and linseed
pellets with a diameter of 8 mm
free of molasses, no added binding agents
the coarse structure of the contents is maintained due to gentle pressing
free of oat and wheat
with vitamins and minerals
the contained linseed provides essential fatty acids and ensures a shiny coat
Commercial form:
25 kg paper sack

Working horses need high-quality concentrate feed as a base feed to cover their increased energy requirements. AGROBS remains true to its philosophy with the development of HORSE ALPIN, a concentrate feed that uses easy-to-digest PRE ALPIN dried green fibres as its foundation.
HORSE ALPIN supports healthy metabolism and helps keep intestinal flora in balance. PRE ALPIN contains dried green fibres and hydrothermally processed barley and maize for easily-digestible energy. Added linseed provides essential fatty acids and energy without excess starch, helping to keep you horse's coat shiny.
A further special feature of HORSE ALPIN is the addition of a high-quality mineral feed which contains organically bound trace elements for optimal utilisation by the body. Like all its feed products, HORSE ALPIN from AGROBS is all-natural. The raw materials are gently processed into pellets and thus retain their coarse structure, stimulating chewing and salivation. No binding agents (molasses, bran) or preservatives are used.
with over 60 different types of meadow herbs and grasses
added vitamins and minerals
natural composition
no oats
no molasses
energy boosting
no binding agents
no bran
pellet size: 8 mm
AREAS OF USE
as sole concentrated feed
as supplement to other concentrated feed
in case of intolerance towards molasses and other additives
Feeding Recommendation
400 to 700 g per 100 kg ideal body weight per day
when feeding 700 g per 100 kg ideal body weight, mineral feed must not be supplemented
langer amounts should be divided into several small portions
Composition
Feed additives for horses, ingredients:
PRE ALPIN® dried green fibres, maize, barley, linseed, AGROBS® Naturmineral
*= made of grass, herbs and legumes
Analytic components:
| | | | |
| --- | --- | --- | --- |
| Crude protein | 10.00 % | Starch | 16.00 % |
| Crude oils and fats | 3.60 % | Sugar | 8.00 % |
| Crude fibre | 18.20 % | Fructan | 5.90 % |
| Crude ash | 7.40 % | Lysine | 0.34 % |
| Calcium | 0.63 % | Methionine | 0.17 % |
| Phosphorus | 0.29 % | Cystine | 0.10 % |
| Magnesium | 0.23 % | Threonine | 0.37 % |
| Chloride | 0.40 % | Digestible energy | 9.83 DE MJ/kg |
| Sodium | 0.11 % | Methabolisable energy | 8.70 ME MJ/kg |
| Potassium | 1.26 % | Precaec. dig. crude protein | 6.70 % |
| Sulphur | 0.17 % | | |
Additives per kg:
Vitamin A
750.00 I.E.
Folic acid
2.10 mg
Vitamin D3 (3a671)
75.00 I.E.
Biotin
150.00 mcg
Vitamin E
67.50 mg
Iron
3.00 mg
Vitamin B1
6.75 mg
Copper
7.50 mg
Vitamin B2
7.50 mg
Manganese
10.50 mg
Vitamin B6
3.75 mg
Zinc
60.00 mg
Vitamin B12
37.50 mg
Selenium
0.15 mg
Ca- pantothenate
9.00 mg
Cobalt
0.75 mg
Nicotinic acid
18.00 mg
Iodine
0.15 mg
Choline chloride
4.20 mg
Technological additive
Silica
60.00 mg
The analysed sugar value is also of wholly native origin. No added artificial sugars.
Status 03/2020
Customer Rating

16.01.2019
C. from Tirol
Super Futter
Perfekt für meine "Männer" ! Sind durch das Futter schön rund geworden. Mische es mit Hafer, durch die Pellets können Sie jetzt auch nicht mehr so schlingen.

20.01.2018
Silke from Dillenburg
Super !
Mein QH frisst es gerne und verträgt es sehr gut!

24.05.2017
Anonym from wietzen
leider unverträglich für mein pferd
habe das futter für meinen 4 jährigen hengst gekauft, der schon immer futtersensibel war. futter sieht auf den 1. blick gut aus , saubere pellets und guter Geruch. auch die farbe ist satt grün. nach der 2. Fütterung bekam er jedoch durchfall, richtig nasser kuhfladenschiss. hatte erst noch gedacht das gibt sich, dem war aber nicht so. da das futter bei anderen leuten ja nur gute Bewertungen bekam, denke ich mal das es an meinem Pferd liegt. vll verträgt er die vielen kräuter nicht .

18.04.2017
Kessler from Schaffhausen
Tolle Pellets
Sehr gut riechende und staubfreie Pellets. Da kann man lange nach vergleichbarem Preis-Leistungsverhätlnis suchen. Wird von meiner empfindlichen Stute sehr gerne gefressen.

06.02.2015
Anonym from Herborn
Top Futter
Seit letztes Jahr im Sommer füttere ich es meinem QH und etwas von diesem Futter meiner alten Reitpony-Stute mit unter ihr anderes Futter (Wiesenflakes). Es ist super zu verdauen für die Pferde, kein Kotwasser, Durchfall usw., was sich mit anderen Futtermittel schon hatte. Deshalb bin ich auch bei diesem Futter geblieben. Man benötigt eine geringe Menge des Futters, da es sehr nahrhaft ist und die Pferde an Volumen gewinnen, aber nicht fett werden. Es füttert gut auf, gerade bei alten Pferden und bei Pferden in der Arbeit. Meiner alten Stute schütte ich warmes Wasser darüber mit den Wiesenflakes, somit kann sie es gut aufnehmen und verwerten.
Show more comments