AGF09000
naturmüsli
was removed from the range at the end of February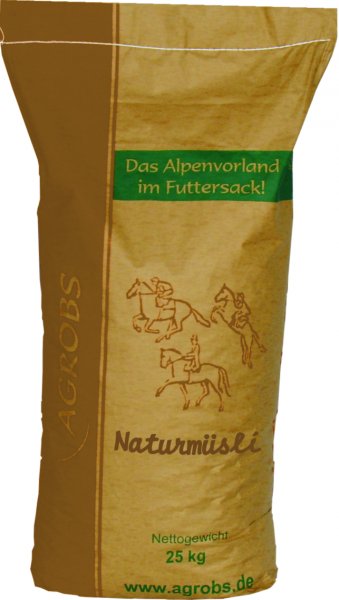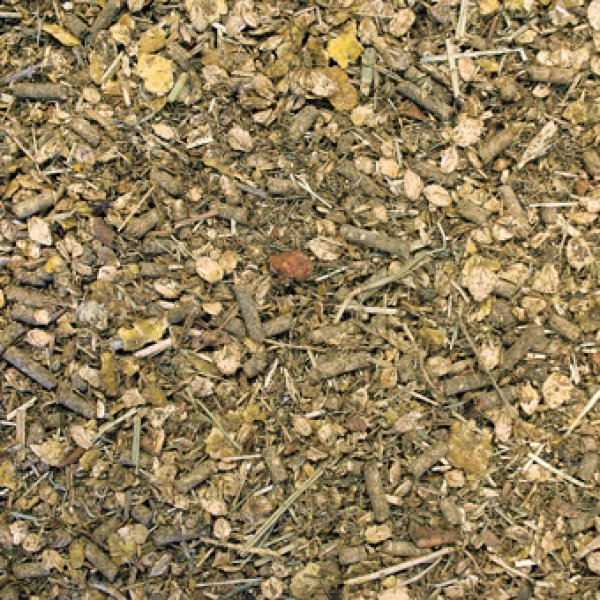 with herbs that aid digestion
enhanced with vitamins and minerals
free of oats
contains PRE ALPIN fibers
tasty
Commercial form:
25 kg paper sack

The fact that there is a relationship between natural nutrition and health, vitality and the joy of work is not a new insight.
AGROBS Naturmuesli is a balanced, oat-free muesli for horses. Thanks to its PRE ALPIN dry green fibers, it helps to stimulate microbial activity in the large intestine.
In addition to highly solubilized barley and corn flakes, Naturmuesli contains oil-rich energy carriers such as wheat and corn germ, linseed and sunflower seeds as well as cold-pressed linseed oil. These ingredients provide not only essential fatty acids, but also natural vitamins, trace elements, and secondary plant substances. Brewer´s yeast supplies a high content of B vitamins and also helps to maintain a healthy intestinal flora.
The feed provides horses with energy as well as easy-to-digest and vitalizing components. AGROBS Naturmuesli is a tasty, natural horse muesli without artificial preservatives.
with herbs that aid digestion
enhanced with vitamins and minerals
free of oats
contains PRE ALPIN fibers
highly solubilized, easy to digest
tasty
AREAS OF USE
as sole concentrated feed rich in vital substances
as supplement for other concentrated feed
Feeding Recommendation
Approx. 100 - 600 g per 100 kg target body weight, depending on the horse's type and work
600 g or more per 100 kg target body weight covers vitamin and mineral requirements.
Composition
Feed additive for horses, ingredients:
Barley Flakes, PRE ALPIN dried green fibres*, corn flakes, wheat bran, apple pomace, oat bran, sugar beet molasses, lucerne chaff, oil mixture (linseed oil and sunflower oil), sugar beet chips, sea algae chalk, barley germ, apple sirup, corn germ, grape skins, salt, herbs (coriander, fennel, sage, marjoram), malted yeast extract, cold-pressed linseed/sunflower oil, grape seeds, brewer´s yeast
*= made of grass, herbs and legumes
Analytical components:
| | | | |
| --- | --- | --- | --- |
| Crude protein | 9.40% | Phosphorus | 0.40 % |
| Prececal dig. crude protein | 7.20 % | Magnesium | 0.20 % |
| Crude oils and fats | 3.00 % | Starch | 27.00 % |
| Crude fibres | 12.00 % | Sugar | 5.70 % |
| Crude ash | 8.00 % | Sodium | 0.30 % |
| Calcium | 1.00 % | Digestible energy | 11.00 DE MJ/kg |

Additives per kg:
Vitamin A (3a672a)
15 400 I.E.
Nicotinic acid
45.00 mg
Vitamin D3 (3a671)
1 700 I.E.
Folic acid
4.00 mg
Vitamin E (3a700)
72.00 mg
Iron (Fe(II ) sulphate monohydrate E1, Amino acids-Fe-chelate, hydrate)
90.00 mg
Vitamin B1 (3a821)
9.00 mg
Zinc (Zn-sulphate monohydrate E6 u.
Amino acids-Zn-chelate, hydrate)
100.00 mg
Vitamin B2
9.00 mg
Manganese (Mn(II ) sulphate monohydrate E5 u. Amino acids-Mn-chelate, hydrate)
50.00 mg
Vitamin B6
6.00 mg
Copper (CU (II ) sulphate pentahydrate E4 u. Amino acids-Cu-chelate, hydrate)
17.00 mg
Vitamin B12
32.00 mcg
Cobalt (coated CO (II ) carbonate monohydrate E3)
0.60 mg
Biotin
200.00 mcg
Selenium (Na-Selenit E8)
0.40 mg
Ca-pantothenate
18.00mg
Iodium (Ca-Jodat E2)
1.00 mg
Choline chloride
560.00 mg
Status 03/2020