AGF35000
Oil Mixture for Horses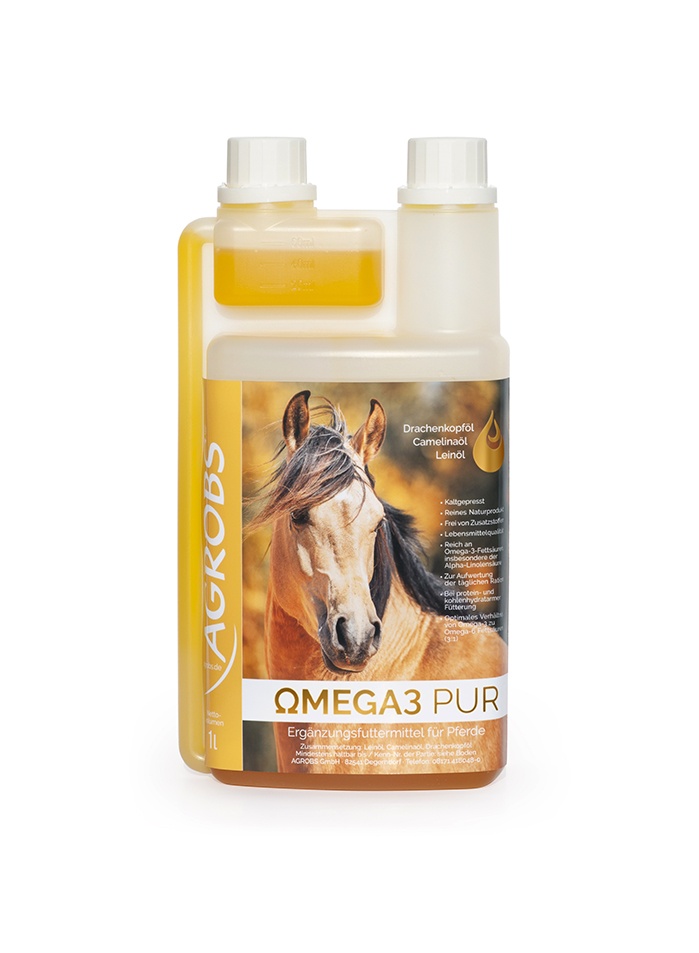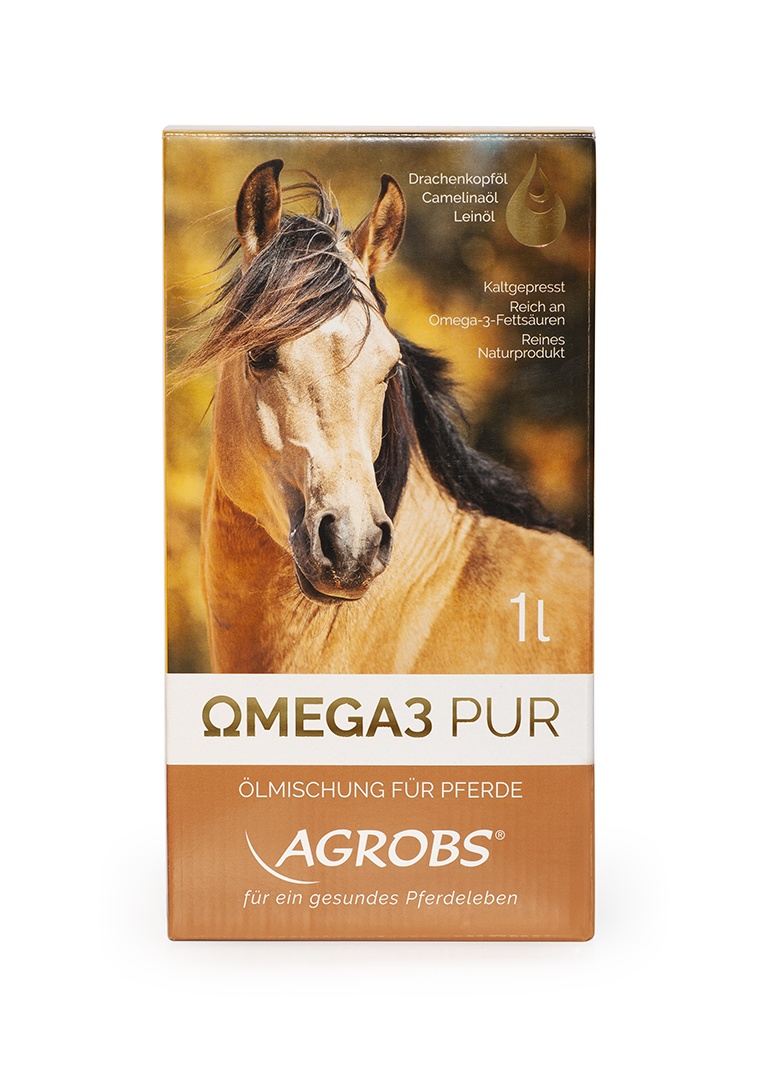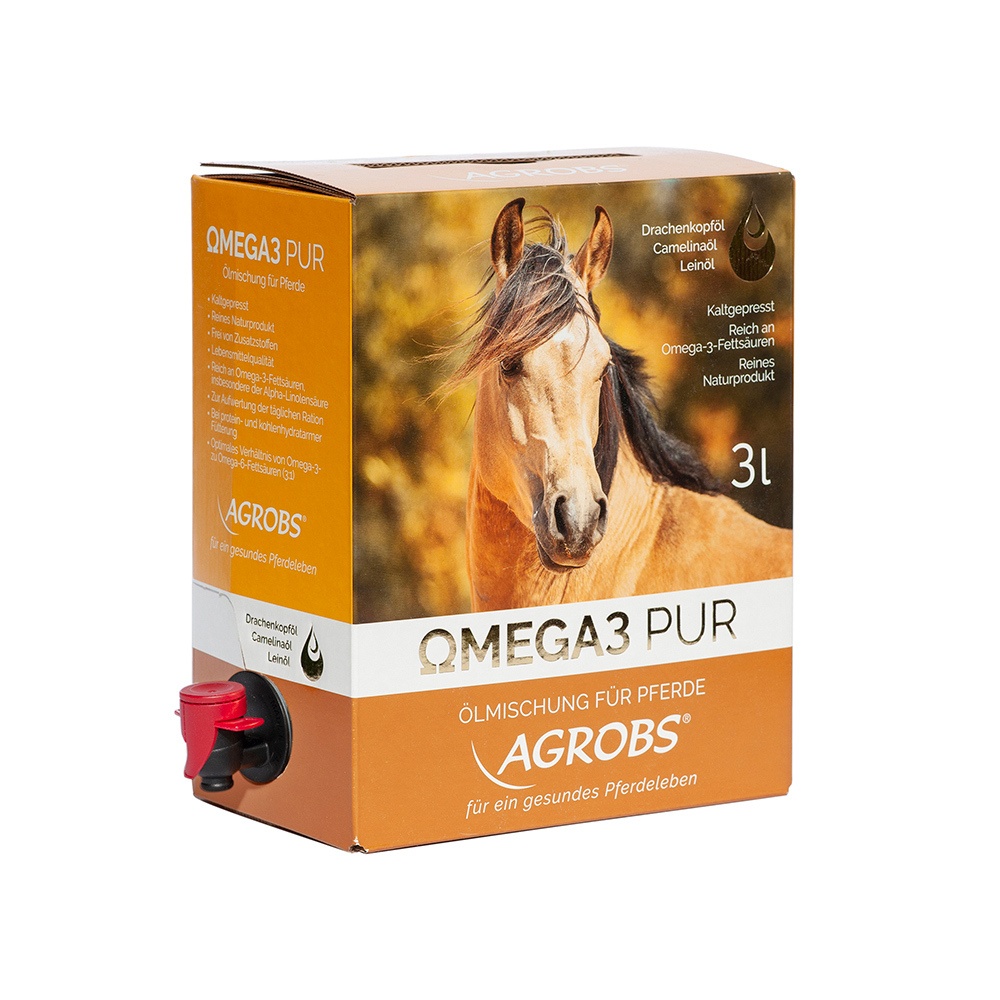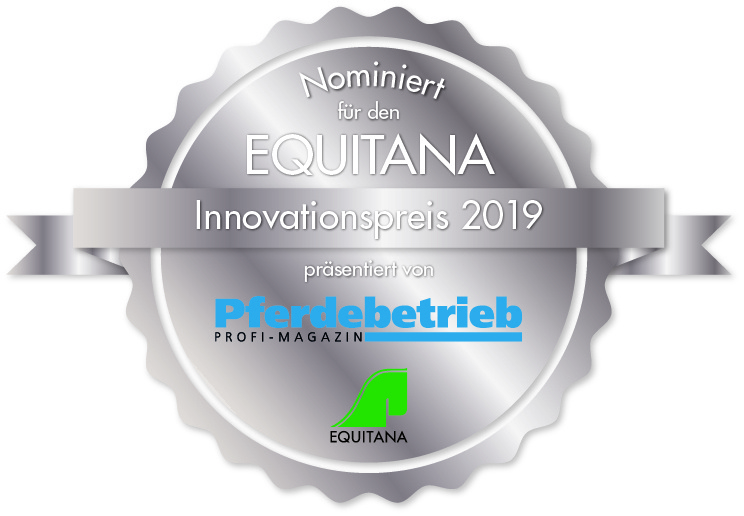 rich in omega-3 fatty acids, especially alpha-linolenic acid
cold-pressed
1 litre dosage bottle, packaged in a box to preserve the quality-protects against light
ideal source of energy in case of a diet low in protein and carbohydrates
food quality, free of additives
pure natural product
ideal ratio of omega-3 fatty acids to omega-6 fatty acids (3:1)
Commercial form:
1 litre dosage bottle
3 litre Bag-in-Box

OMEGA3 PUR is a composition of cold-pressed oils of linseed, camelina and Lallemantia iberica (dragon's head) with an especially high percentage of polyunsaturated fatty acids as well as natural vitamin E.
Oils are considered to be an appropriate energy source for a ration low in starch, sugar and protein. They provide a high content of health enhancing substances, e.g. omega-3 fatty acids, which are important for regulation of blood clotting and health maintenance of blood vessels. Further, they are a substantial component of smooth cell membranes which serve as junction for the cell nourishment. Thus, they support, e.g. skin cells in absorbing important nutrients. Therefore, the administration of OMEGA3 PUR quickly becomes noticeable through a shiny coat. Omega-3 fatty acids can support the organism in case of inflammatory processes in the body. They add a final touch to every balanced ration.
AREAS OF USE
for supply with essential omega-3 fatty acids and for improvement of the ratio of omega-3 fatty acids to omega-6 fatty acids in the complete ration
as feed supplement for horses that have to have feed especially low in protein
as feed supplement in cases of rations low in starch and sugar
as highly-concentrated energy source
Feeding Recommendation
for supply with high-quality fatty acids: 5-10 ml per 100 kg body weight per day
for energy supply: up to 20 ml per 100 kg body weight per day (increase gradually)
in case of liver problems a high oil supply sould be avoided
Composition
Feed additive for horses, ingredients:
linseed oil, camelina oil, lallemantia iberica (dragon´s head) oil
Analytical components:
| | | | |
| --- | --- | --- | --- |
| content of crude fats | 99.80 % | ratio omega-3 fatty acids: omega-6 fatty acids | 3 : 1 |
| omega-3 fatty acids | 54.00 % | metabolisable energy | 38.90 ME MJ/kg |
| omega-6 fatty acids | 15.00 % | | |
The analysed values are of native origin.
Status 01/2023