AGF15000
AlpenGrün Mash
For a Healthy Digestion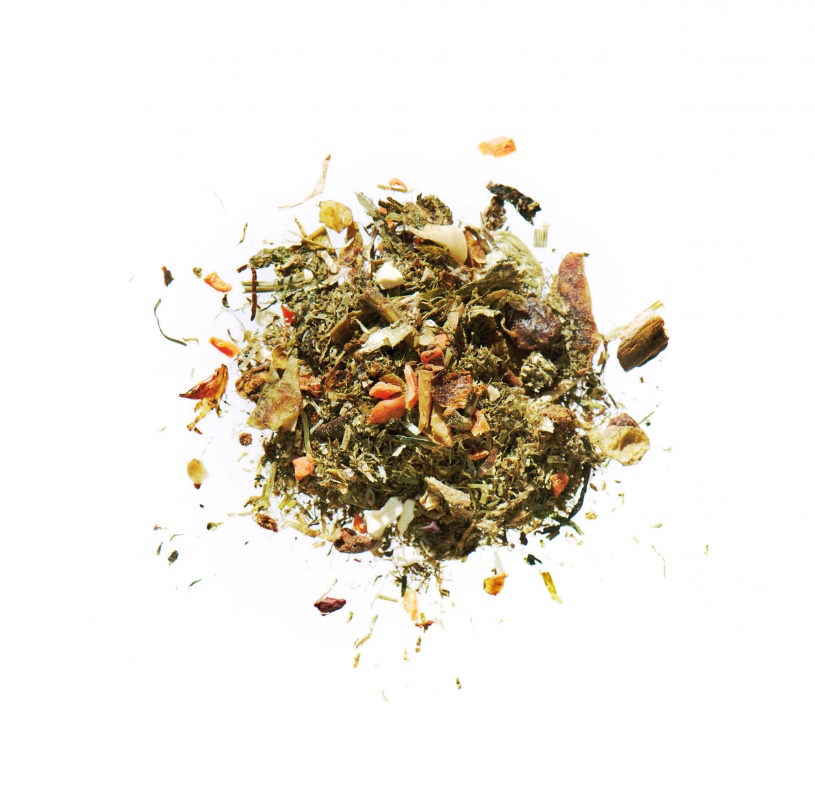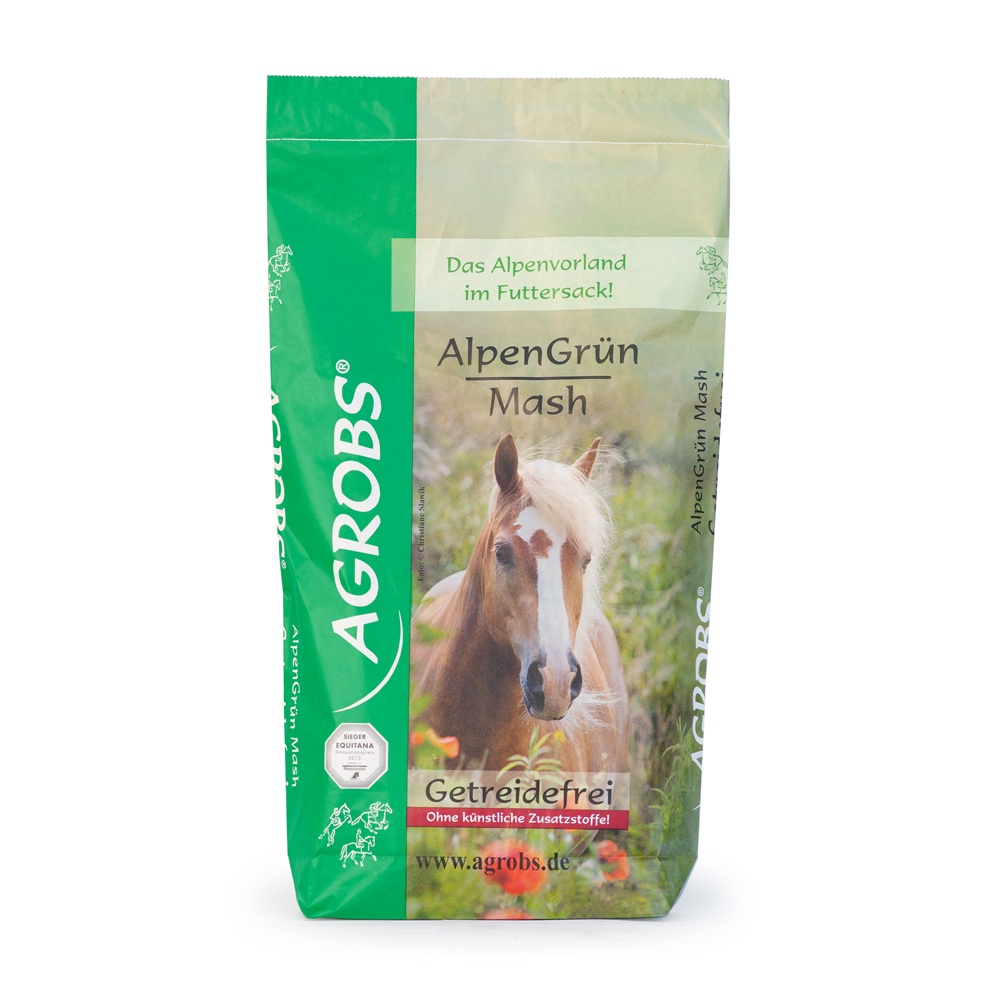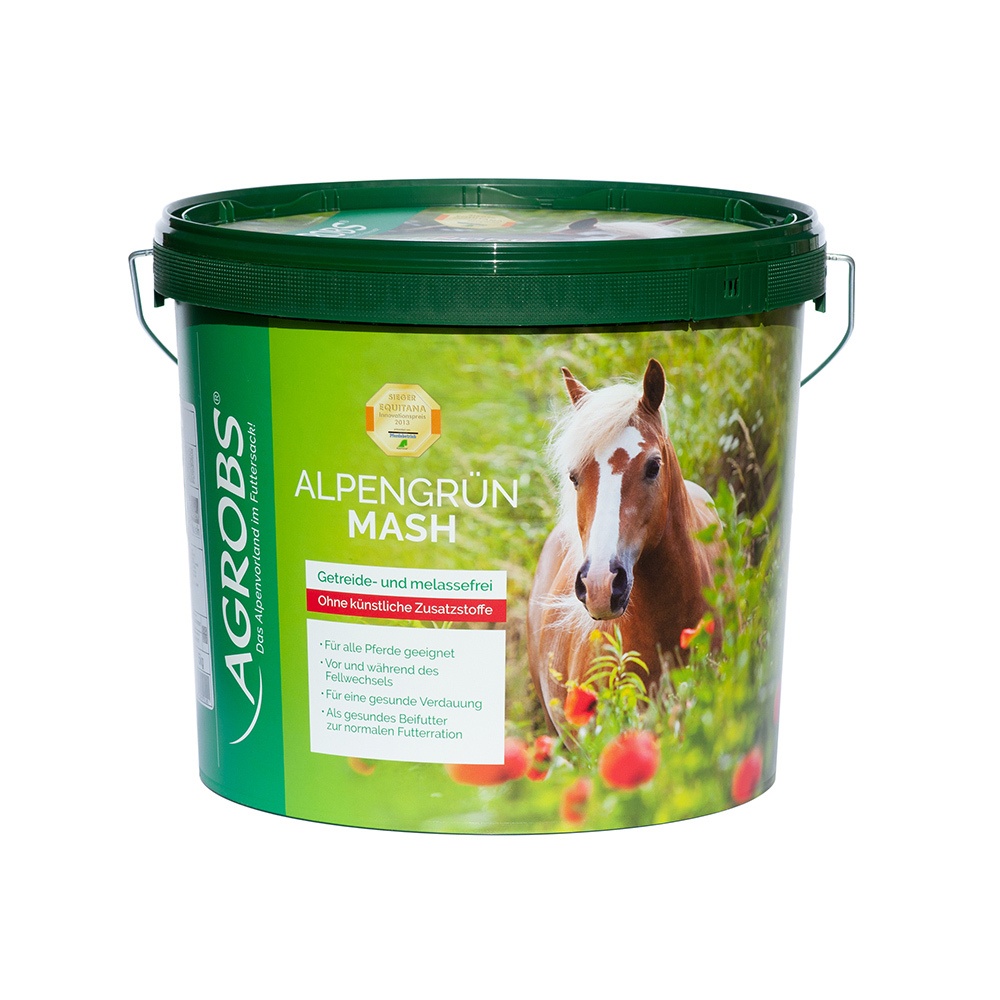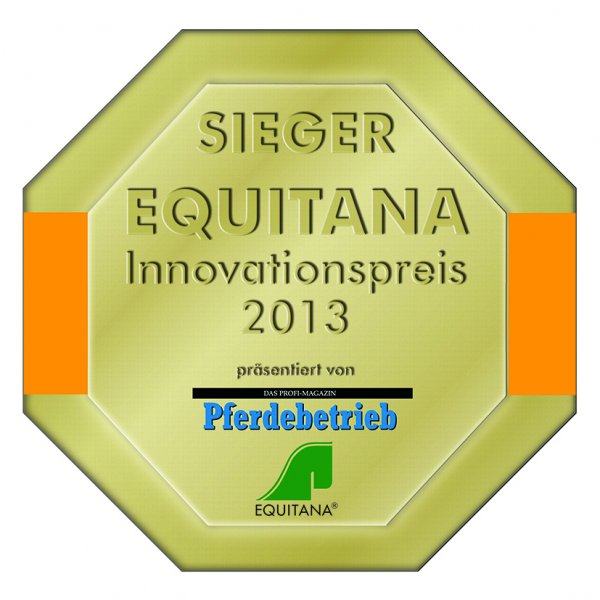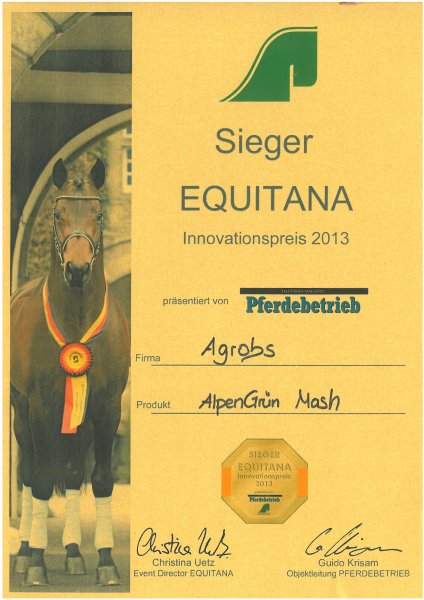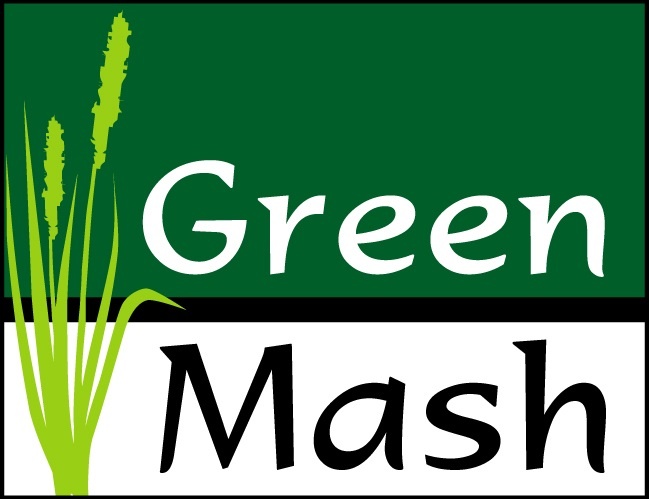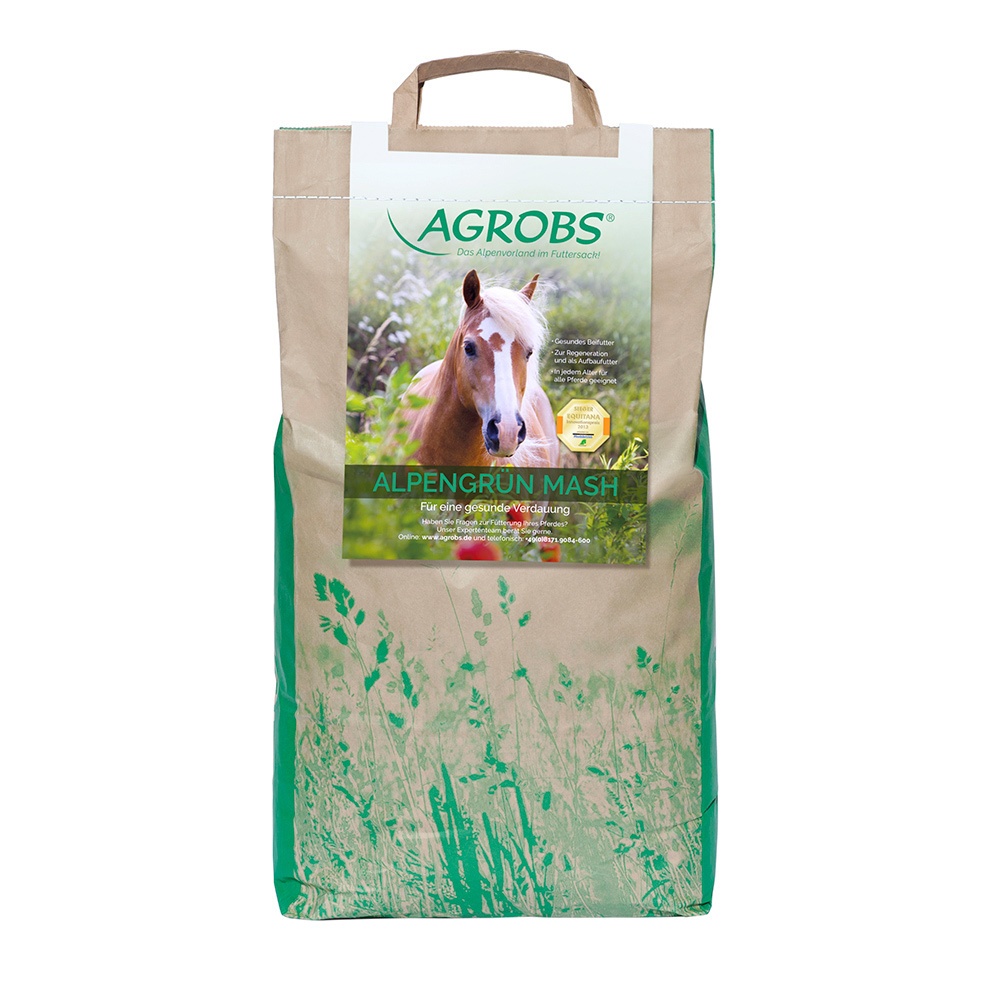 prebiotic Prenatura® fibres, without lucerne
especially tasty with fruits and vegetables, such as carrot, beetroot, parsnip and apple
free of grain and molasses, free of wheat bran, no artificial additives
very concentrated, can also be mixed with cold water
healthy rosehips serve as natural source for vitamin C
fennel and caraway support digestion
psyllium and linseed provide important mucins
optimal calcium:phosphorus ratio of 2:1
Commercial form:
5 kg bucket
15 kg paper sack
5 kg paper bag

...we're "in the green"
CEREAL FREE
No artificial additives!
The first cereal-free mash!
Horse owners will find a wide range of mash products on the market in addition to conventional horse feeds. All of these are similar in that they contain bran and are not suitable as a daily feed. AGROBS now has an entirely new form of mash with a unique composition.
AlpenGrün Mash contains Prenatura fibres which largely consist of the leaves and seeds of grasses and herbs that have been dried with warm air. These are high in natural vital substances including trace elements, vitamins, and secondary plant substances. Prenatura fibres also provide your horse with important highly digestible crude fibre with prebiotic properties to actively promotes gut health and the growth of beneficial gut bacteria. This reduces putrefactive and gas-forming bacteria in the large intestine.
Linseed and psyllium provide mucilages which coat the mucosa in the stomach and gut with a protective film. This helps to maintain healthy, intact mucosa as well as assists in the regeneration of mucosa irritated by illness, medication, deworming treatment, or stress. Its unsaturated fatty acids also promote a healthy skin and coat.
ALPENGRÜN MASH contains gently dried beetroot, carrot, apple, and parsnip for a delicious taste. Even finicky horses are happy to eat it without added molasses. ALPENGRÜN MASH also contains natural vital substances including secondary plant substances, vitamins, minerals, and highly digestible pectins for healthy gut flora. Dried rose hip peel is known for its vitamin C, an important immune system booster. ALPENGRÜN MASH also contains digestion-promoting fennel and caraway.
With no cereals, bran or molasses, ALPENGRÜN MASH is also ideal for horses with sensitive metabolisms and can be used both as a daily feed or as a regimen after a bout of colic or during moulting!
Contains no cereals or bran
High in crude fibre
Promotes healthy digestion
Prebiotic
High in digestion-promoting mucilages
High in vital substances
Great taste
No molasses
Optimum Ca:P ratio of 2:1
Easy and quick to prepare
Cost-effective thanks to high yield
AREAS OF USE
healthy additional feed
for regeneration and as build-up feed
appropriate for horses of all ages
As proactive feed for horses with delicate digestive systems
Feeding Recommendation
80 to 100 g per 100 kg ideal body weight
mix AlpenGrün Mash with warm water, stir well, soak approximately 5 to 10 min and feed lukewarm
if necessary, AlpenGrün Mash can also be mixed with cold water, soaking time increases to approximately 15 to 20 min
mixture ratio AlpenGrün Mash to water: 1:3 to 1:7. Example: 0,5 kg AlpenGrün Mash : 1,5 to 3,5 litres of water
appropriate for daily use
introduce new feed gradually
As mineral supplement, we suggest an AGROBS® mineral feed, adapted to your horse and it s needs.
Composition
Feed additive for horses, ingredients:
Prenatura-fibres*, linseed granules, Pre Alpin structured fibres, apple pomace, beetroots, carrots, parsnips, cold-pressed oil mixture (linseed oil, camelina oil), psyllium, rosehip shells (seedless) , fennel, caraway
*= made of grass, herbs and legumes
Analytical components:
Crude protein
13.90 %
Fructan
4.50 %
Crude oils and fats
4.70 %
Zinc
32.90 mg/kg
Crude fibre
22.20 %
Manganese
119.00 mg/kg
Crude ash
8.20 %
Copper
6.90 mg/kg
Calcium
0.53 %
Selenium
< 0.06 mg/kg
Phosphorus
0.29 %
Lysine
0.52 %
Magnesium
0.24 %
Methionine
0.23 %
Chloride
0.27 %
Cystine
0.16 %
Sodium
0.05 %
Threonine
0.49 %
Potassium
1.34 %

Digestible energy

(GfE 2003)
9.49 DE MJ / kg
Sulphur
0.19 %

Metabolisable energy

(GfE 2014)
7.90 ME MJ / kg
Starch
3.20 %
Prececal dig. crude protein
9.60 %
Sugar
9.50 %
The analysed values are of native origin.
The analysed sugar value is also of wholly native origin. No added artificial sugars.
Status 06/2023