AGF15000
AlpenGrün Mash
For a Healthy Digestion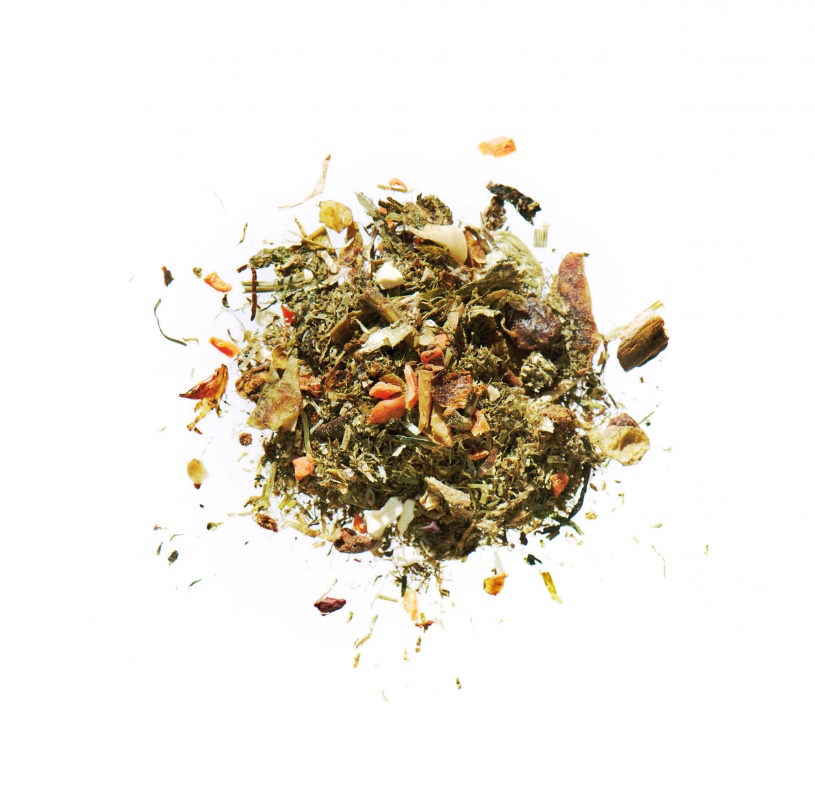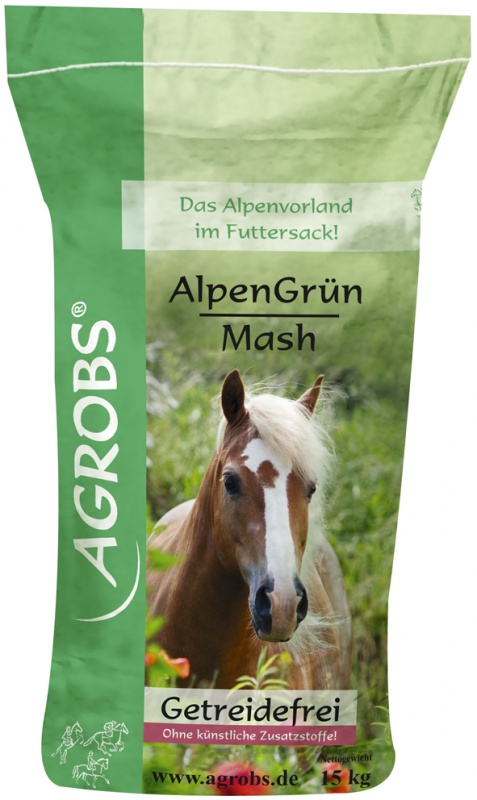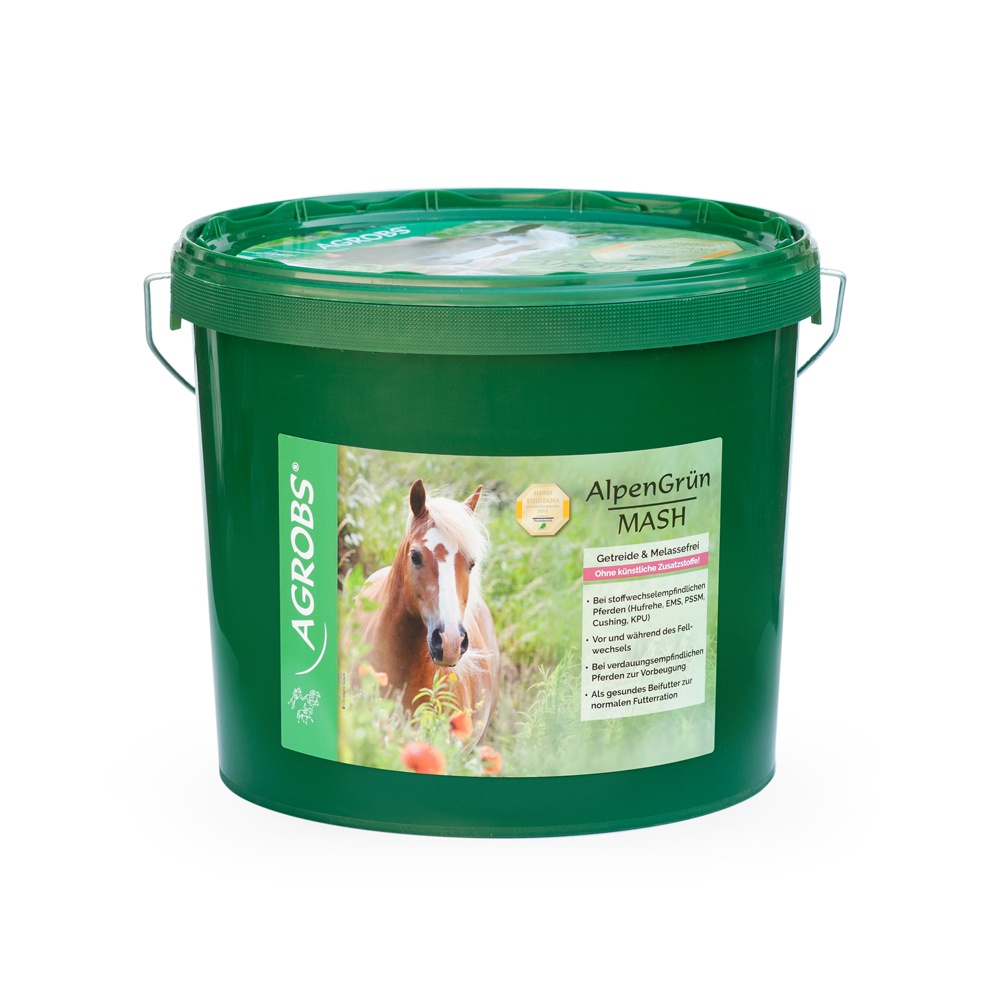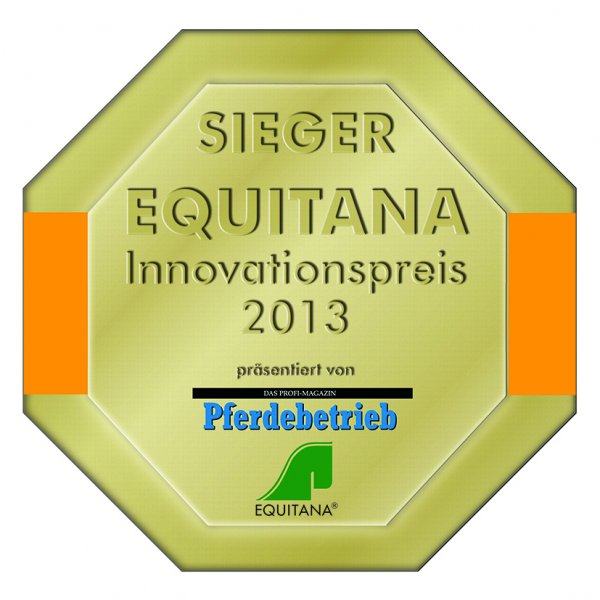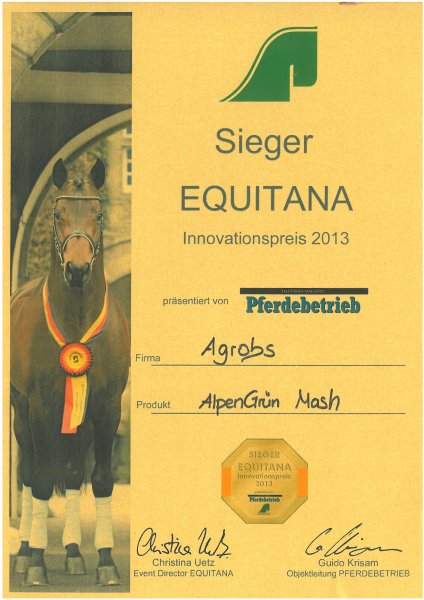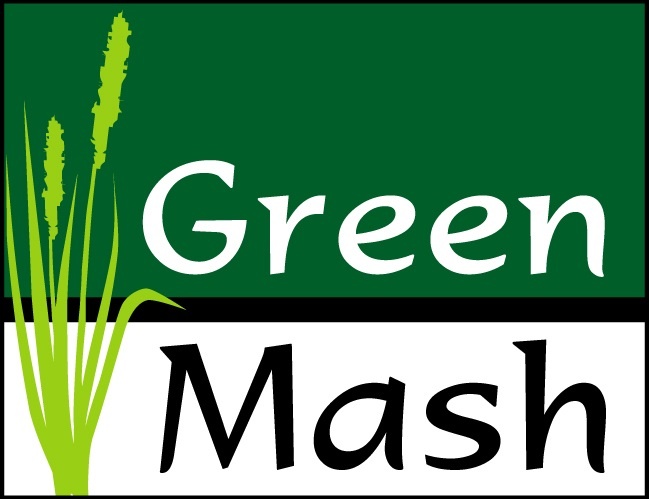 prebiotic Prenatura® fibres
especially tasty with fruits and vegetables, such as carrot, beetroot, parsnip and apple
free of grain and molasses, free of wheat bran, no artificial additives
very concentrated, can also be mixed with cold water
healthy rosehips serve as natural source for vitamin C
fennel and caraway support digestion
psyllium and linseed provide important mucins
Commercial form:
5 kg bucket
15 kg paper sack

ALPENGRÜN MASH consists primarily of Prenatura®-Fibers, made up of leaves and seeds of air-dried grasses and herbs. Thanks to their high nutrient content, e.g. trace elements, vitamins and phytochemicals, Prenatura®-Fibers provide horses with highly-digestible fiber, enhancing intestine well-being and encouraging the growth of useful intestinal flora.
Linseed granulate (cyanide free) and psyllium seeds provide a high content of mucins (gums) and the additional unsaturated fats have a positive effect on skin and fur.
ALPENGRÜN MASH is rounded off with beetroot, carrot, apple and parsnip which makes the Mash particularly tasty. Dried rose-hip skins support a healthy immune system and fennel and caraway seeds aid digestion further.
cereal and bran free
rich in fiber
furthers digestion
prebiotic
rich in intestine-nutrifying mucins
rich in nutrients
particularly tasty
molasses free
quick and easy to prepare
daily treatment feeding possible
cost-effective thanks to high yield
AREAS OF USE
healthy additional feed
for regeneration and as build-up feed
appropriate for all horses off all ages
Feeding Recommendation
80 to 100 g per 100 kg ideal body weight
mix AlpenGrün Mash with warm water, stir well, soak approximately 5 to 10 min and feed lukewarm
if necessary, AlpenGrün Mash can also be mixed with cold water, soaking tima increases to approximately 15 to 20 min
mixture ratio AlpenGrün Mash to water: 1:3 to 1:7. Example: 0,5 kg AlpenGrün Mash : 1,5 to 3,5 litres of daily use
As mineral supplement, we suggest an AGROBS mineral feed, adapted to your horse and it s needs.
Composition
Feed additive for horses, ingredients:
Prenatura-fibres, linseed granules, Pre Alpin structured fibers, apple yeast**, beetroot, carrots, parsnips, cold-pressed oil mixture(linseed oil, camelina oil), psyllium, rosehip shells (seedless) , fennel, caraway
**=note about apple yeast: Initial reports in August point to possible quality issues in apple pomace. To address this matter, we at Agrobs have taken immediate steps. Our apple pomace is now analysed additionally for caffeine (or theophylline) and accepted only after uncompromised quality has been confirmed. For this purpose, we have enlisted an external laboratory to analyse samples of the received batches. So far, no caffeine or theophylline has been detected in any sample.
Analytic component:
Crude protein
13.70 %
Fructan
5.20 %
Crude oils and fats
4.30 %
Zinc
39.00 mg/kg
Crude fibre
20.20 %
Manganese
117.00 mg/kg
Crude ash
10.40 %
Copper
7.80 mg/kg
Calcium
0.65 %
Selenium
<0.04 mg/kg
Phosphorus
0.33 %
Lysine
0.61 %
Magnesium
0.31 %
Methionine
0.23 %
Chloride
0.25 %
Cystine
0.03 %
Sodium
0.10 %
Threonine
0.54 %
Potassium
1.39 %

Digestible energy

(GfE 2003)
9.45 DE MJ / kg
Sulphur
0.22 %

Metabolisable energy

(GfE 2014)
8.00 ME MJ / kg
Starch
3.70 %
Precaec. dig. crude protein
9.20 %
Sugar
9.70 %
The analysed values are of native origin.
Status 01/2020