AGF32000
amino pur
Rich in Essential Amino Acids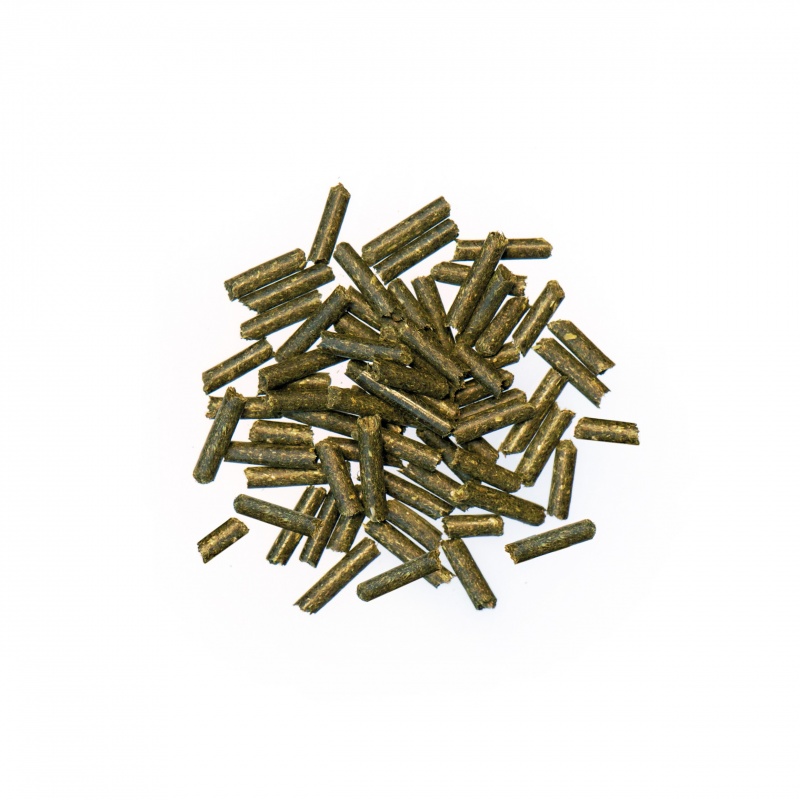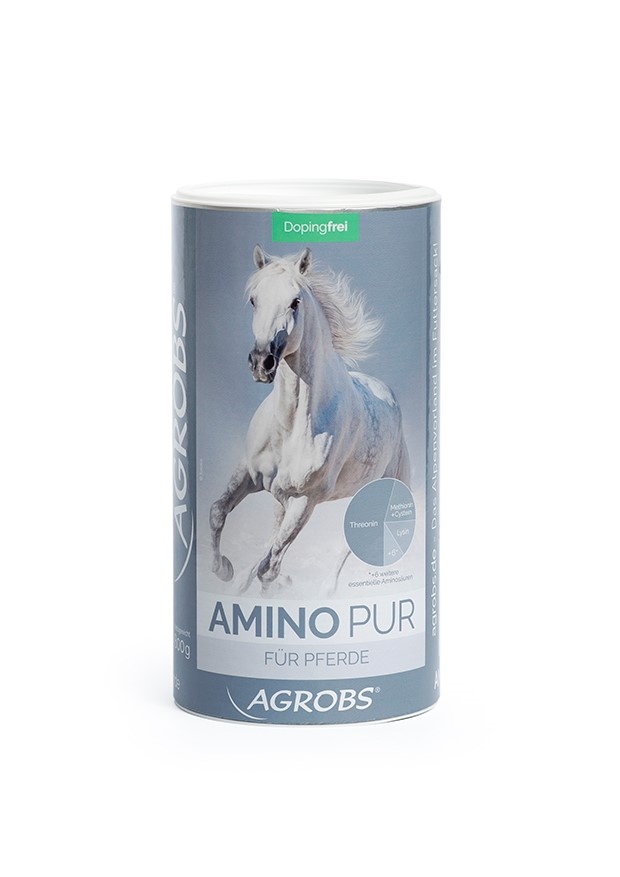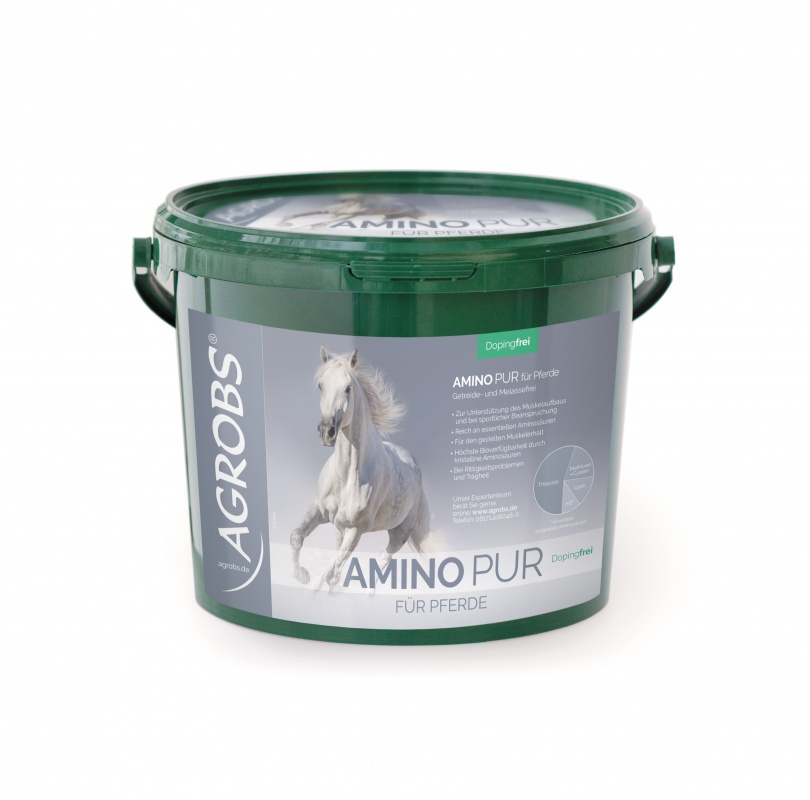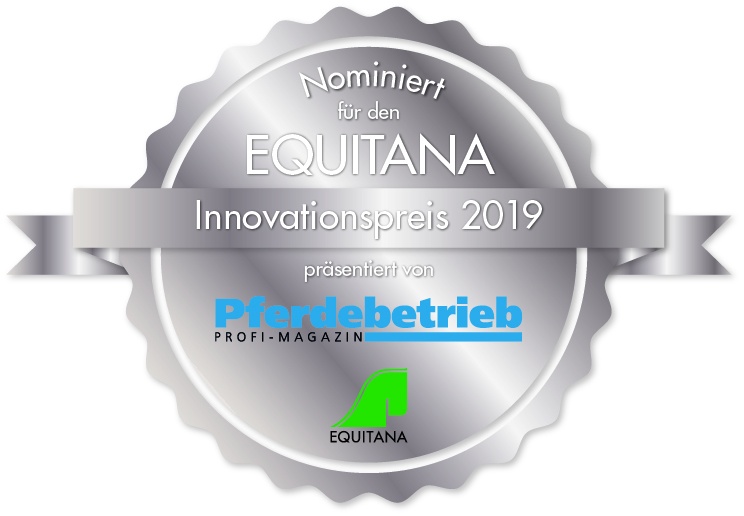 to support muscle build-up in case of athletic stress
purely herbal, free of GMO
for specific muscle maintenance
+ 6 further essential amino acids
highest bioavailability due to the high content of crystalline amino acids
Commercial form:
3 kg bucket
800 g container

Problems with rideability, insufficient muscle tone despite regular training, skin, hoof and coat problems may occur even with an adequate supply of vitamins and minerals. These problems are often caused by an insufficient supply of essential amino acids.
Amino pur's special composition of air-dried meadow grasses and herbs, spirulina and linseed makes it especially suitable for horses with delicate metabolisms. It can sensibly compensate for a deficiency of essential amino acids without overloading the metabolism with excess protein. Amino pur is rich in highly available amino acids – particularly threonine, methionine and lysine.
AREAS OF USE
in case of low-protein / grain-free nutrition
easy keeprs (horses and ponies)
for specific supply with essential amino acids
in case of high need during muscle enhancement training
young horses during growth, carrying or lactating mares
old horses and horses with a thick coat
Feeding Recommendation
as cure over 4 to 8 weeks and for permanent feeding also. When fed directly before or after training, the best effectiveness is reached.
15 - 20 g per 100 kg body weight per day
(1 level measuring spoon = approximately 20 g)
Composition
Feed additive for horses, ingredients:
Prenatura® dried green fibres*, algae (Spirulina), linseed
* = Green fodder from grass, herbs and legume plants.
Analytic components:
| | | | |
| --- | --- | --- | --- |
| Crude protein | 30.20 % | Sodium | 0.22 % |
| Precaec. dig. crude protein | 24.60 % | Calcium | 0.69 % |
| Crude oils and fats | 2.60 % | Phosphorus | 0.27 % |
| Crude fibre | 16.70 % | Lysine | 3.92 % |
| Crude ash | 8.50 % | Threonine | 15.42 % |
| Energy (DE) | 11.60 MJ/kg | SAS (Methionine+Cystein) | 6.14 % |
| Energy (ME) | 8.90 MJ/kg | | |
Status: 01/2020
Customer Rating

24.04.2020
Anonym
TOP!
Krankheitsbedingt hat mein Pferd über den Winter und vor allem während des Fellwechsels stark abgebaut. Er ist extrem mäkelig und verweigert sämtliche Zusatzfuttermittel. Amino Pur hat er sofort gefressen, sowohl im Müsli als auch im Mash. Das Ergebnis nach einer 4 Wochen Kur war bei uns sehr zufriedenstellend (kombiniert mit vorsichtigem Aufbautraining). Ich werde das Produkt immer wieder kurweise zufüttern. Nur zu empfehlen!

11.04.2020
Lisa Schröder from Baruth
Nichts für mäklige Pferde!
Ich finde das Produkt und die Zusammensetzung der Inhaltsstoffe an sich gut, aber durch die Alge riecht das Futter sehr stark und muss scheinbar auch genau so schmecken, denn meine mäkligen Pferden haben nicht ein Mal, zusammen mit Mash und Apfelmus, probiert und auch mein "verfressenes" Pferd fand es nicht so überragend. Er hat es gefressen, aber war dennoch nicht der größte Fan davon. Leider habe ich dieses Futter für meine Stute (die es gar nicht frisst) gekauft und damit leider einen Fehlkauf gemacht.

14.01.2020
Corinne from Schweiz
Absolut Top
Meine Stute baut gerne über den Winter etwas ab. Sie kriegt nun das Amino Pur über den Winter (Nov. - März) und die ersten Erfolge sind sichtbar. Keinen Muskelabbaue bis jetzt, sondern sogar eher aufgebaut. Sie frisst es sehr gerne im Kraftfutter. Werde dies auch nächsten Winter wieder zufüttern.

31.05.2019
Anonym from Flensburg
Super
Mein Pony ist sehr schwer zu überzeugen wenn es neue Sachen essen gibt, aber die Produkte von Agrobs kommen immer gut an. Dabei ist die Zusammensetzung der Produkte immer vorbildlich. Vielen Dank für diese tollen Produkte.

09.05.2019
Julia from Berlin
Eine super Fellqualität!
Dieses Futter ist wirklich sensationell! Ich habe es im Winter 2 mal wöchentlich zur ad-libitum Heugabe für ein Offenstallpferd ( Warmblut), zugefüttert, und schon im Februar kam mein Pferd in den Fellwechsel. Das Fell ist fühlt sich weich und seidig an, ebenso das Langhaar, die Hufe brechen weniger aus....ich werde das Produkt auf jeden Fall weiterfüttern!
Show more comments