AGF03000
Aspero
The Special Long Chop Fibre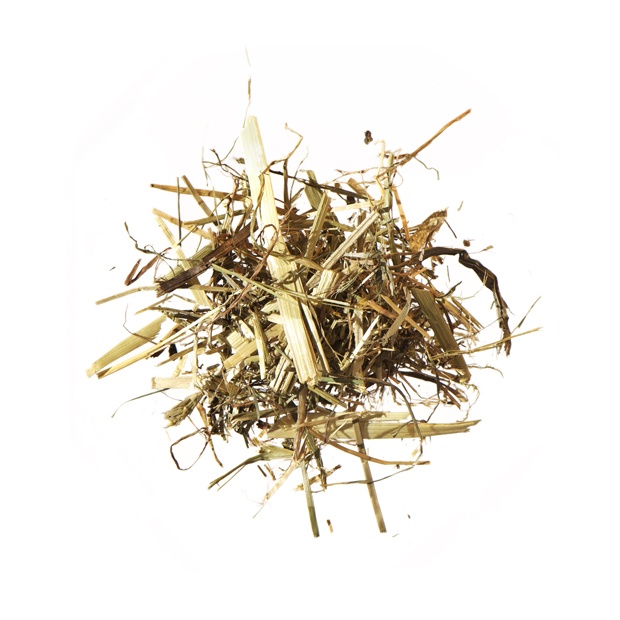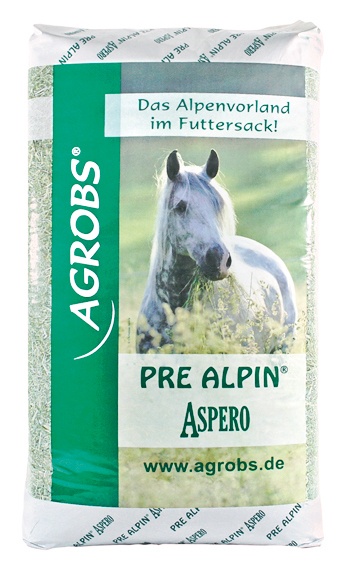 over 60 different grasses and herbs guarantee high contents of vital substances and crude fibre, without lucerne
appropriate for temperamental horses
free of molasses, low in starch and fructan
supply with essential fatty acids due to cold-pressed linseed oil and camelina oil
free of mould and dust
warm air-dried
coarse fibre structure, extends feeding time and enhances saliva production
Commercial form:
20 kg bale

Rouhgly structured hay chaff has a positive effect on digestion because it promotes chewing. AGROBS® has made use of this knowledge, not least in order to counteract the widespread overfeeding of horses with grain and resulting problems.
PRE ALPIN® ASPERO is made up of over 60 different field grasses and herbs from Bavarian foothills of the Alps, which are harvested at the right moment in time and dried in a state-of-the-art warm air drying plant. We pay special attention to ensuring the right chaff length in order to produce an ideal structured feed, which is unique in terms of its many areas of useage.
Careful processing ensures that PRE ALPIN® ASPERO, like all PRE ALPIN® products, is rich in nutrients and vital substances and free of dust and mildew spores. It is therefore a high-qualitiy, clean alternative to hay or silage. As an energy-dense structural feed low in starch and sugar, it can be used to replace concentrated feed.
with over 60 different field grasses and herbs
free of dust and mould
rough-structure fiber
uncompressed
low starch and fructan content
free of molasses
AREAS OF USE
as basic feed (100 % hay substitute)
for enhancement of hay, silage, pasture
in case of respiratory problems due to dust and mould in the basic feed
as substitute and supplementation for concentrated feed
mix in with the concentrated feed for extended feeding time
- for horses that are very temperamental or exciteable
Aspero consists mainly of slow-to-digest carbohydrates. It releases energy slowly, ensuring that excitability/nervousness are not increased.
-
for horses that need a lot of energy and receive large amounts of concentrated feed, as well as horses with high acidity
Thanks to its high energy density, Aspero can be used to replace grain in the ration. This relieves horses from large starch volumes and helps avoid hyperacidity.
- for horses that have to be fed a diet low in starch and sugar
Aspero consists exclusively of field grasses and herbs that have been dried using warm air, plus 2 percent cold-pressed linseed oil. No grain, molasses etc. are added. We also place great importance on ensuring low fructan content.
- to prolong feeding times
- for horses and ponies that receive only little manger fodder. When mixed with manger fodder, Aspero - thanks
to its substantial volume - increases the amount of manger fodder.
- for horses that gulp down their food
- in case of unrest and jealousy about food
- to stimulate the production of saliva
The rough structure forces the horse to feed more slowly and to moisten the manger fodder more thoroughly with saliva, which has positive effects on digestion. It also helps ensure balanced tooth abrasion and satisfies the need to chew. Unrest and jealousy about food are avoided.

Packaged in recyclable foil.

Feeding Recommendation
as basic feed (100% hay substitute); approximately 1.5 kg per 100 kg ideal body weight per day
as concentrated feed: 1.2 kg substitute approximately 1 kg of grain
for enhancement of the basic feed: 1 kg substitutes 1 kg of hay
introduce new feed gradually
Composition
Feed additive for horses, ingredients:
meadow grasses and herbs, oil mixture cold-pressed (linseed oil, camelina oil)
Analytical components:
Crude protein
7.40 %
Fructan
6,60 %
Crude oils and fats
3.0 %
Zinc
19.00 mg/kg
Crude fibre
30,50 %
Manganese
84.80 mg/kg
Crude ash
6,30 %
Copper
4.00 mg/kg
Calcium
0.39 %
Selenium
0.13 mg/kg
Phosphorus
0.22 %
Lysine
0.32 %
Magnesium
0.15 %
Methionine
0.11 %
Chloride
0.32 %
Cystine
0.05 %
Sodium
0.02 %
Threonine
0.26 %
Potassium
1.37 %

Digestible energy

7.66 DE MJ / kg
Sulphur
0.12 %

Metabolizable energy

6.50 ME MJ / kg
Starch
1.96 %
Prececal dig. crude protein
4,12 %
Sugar
9,11 %
The analysed values are of native origin.
The analysed sugar value is also of wholly native origin. No added artificial sugars.
Status 01/2022