12800
Gartenschmaus
The country garden vital mix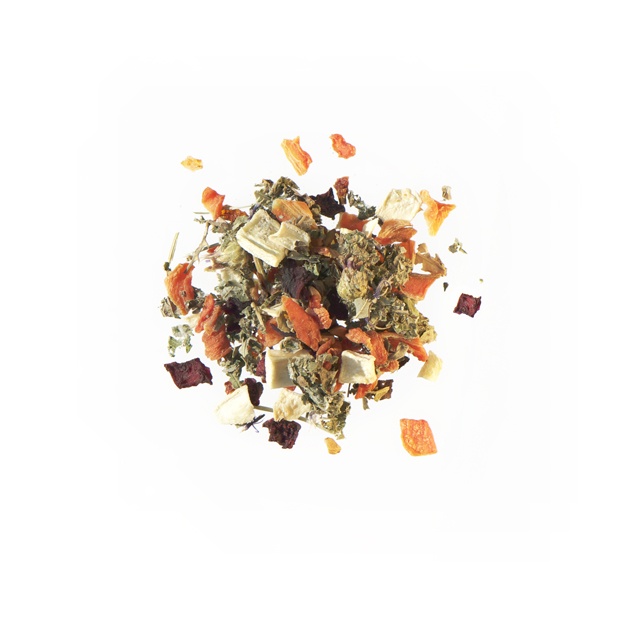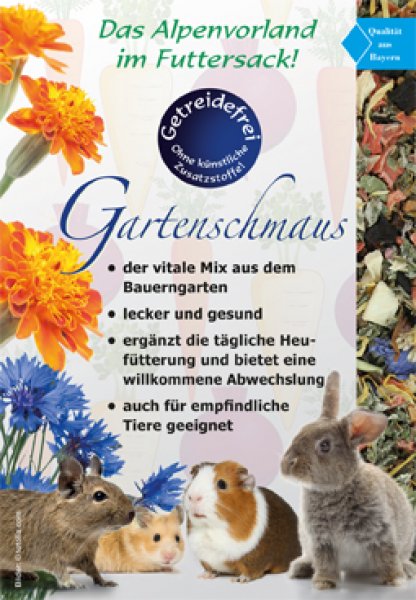 With carrots, beetroot, parsnips, leaves from raspberry and blackberry bushes, cornflowers and marigolds
Rose hips supply natural vitamin C
High crude fibre content promotes healthy digestion
No cereals or artificial additives
Commercial form: 250 g bag
This tasty garden feast is made from root vegetables such as carrots, beetroot, and parsnips as well as leaves from raspberry and blackberry bushes, cornflowers, marigolds and rose hips. Pamper your pet with this healthy garden feast that naturally provides important vital substances like minerals, vitamins, secondary plant substances and a high level of crude fibre essential to healthy digestion.

Agrobs Gartenschmaus contains no cereals or additives, making it suitable for especially delicate animals. Agrobs Gartenschmaus can also be combined with one of our base feeds (Wiesenheu, Kräuterlinge, Sensitiv, Stroh).

Important:
Guinea pigs should be provided with small quantities of fresh vegetables, greens or fruit daily for their vitamin C requirements.
Feeding Recommendation
in addition to hay
provide as needed
We don't use any synthetic vitamin C in our feeds and recommend supplementing our feed with fresh fruits and vegetables as a daily source of natural vitamin C.
Composition
Feed additives for rabbits, guinea pigs, chinchillas, hamsters and degus

Ingredients:
Cubed carrots, rose hips (chopped), cubed parsnips, cubed beetroot, marigold blossoms, raspberry leaves, blackberry leaves, cornflower blossoms
Analytic components:
| | | | |
| --- | --- | --- | --- |
| Crude protein | 7,40 % | Water | 8,60 % |
| Crude oils and fats | 2,10 % | Calcium | 0,36 % |
| Crude fibre | 15,20 % | Phosphorus | 0,21 % |
| Crude ash | 4,50 % | | |
The analysed values are of native origin.
Status 11/2017