AGF44000
Gipfelstürmer Mineral
NEW - Concentrate feed for horses with increased nutritional requirements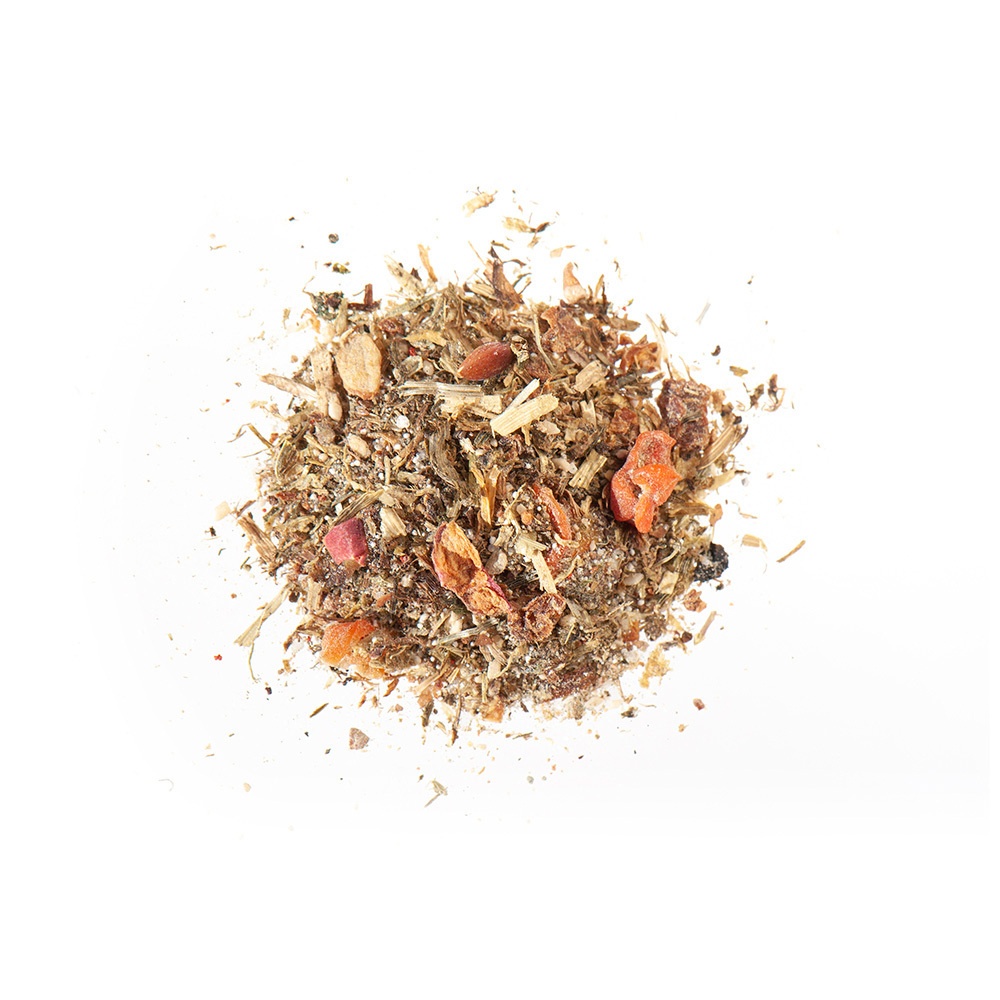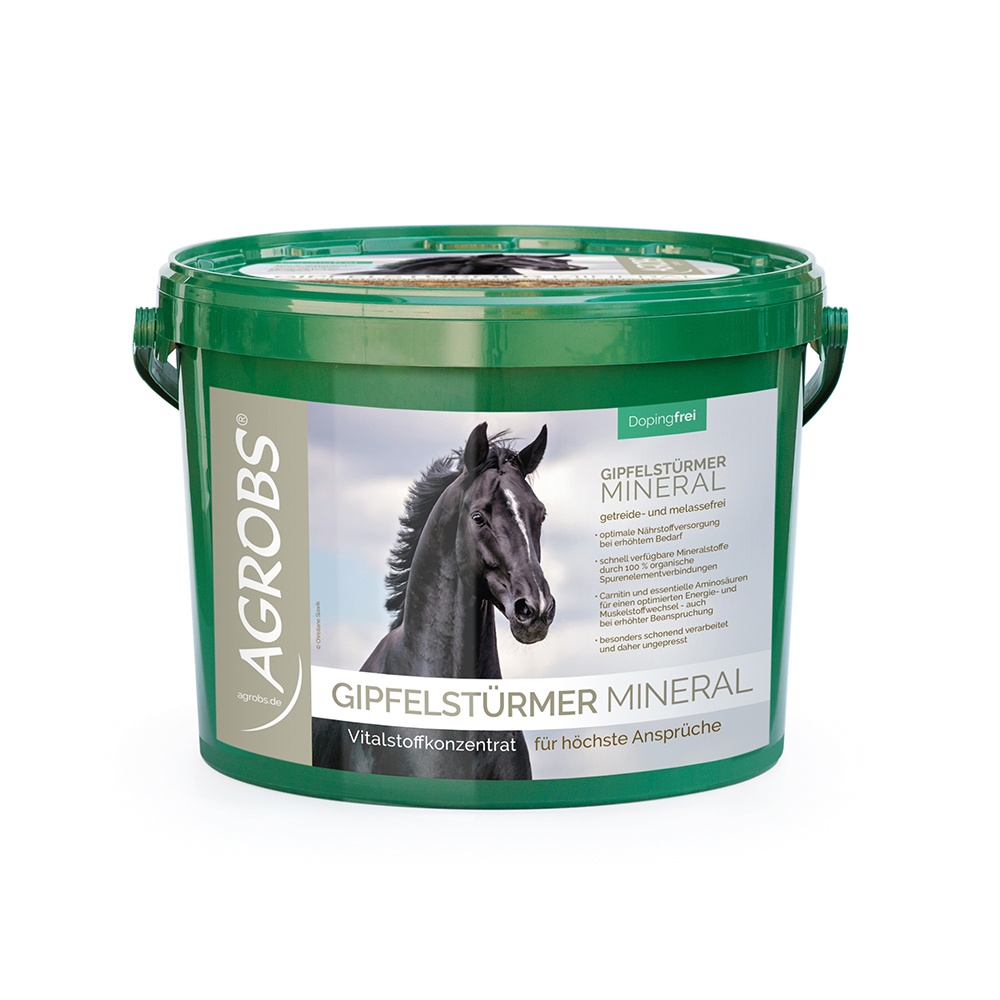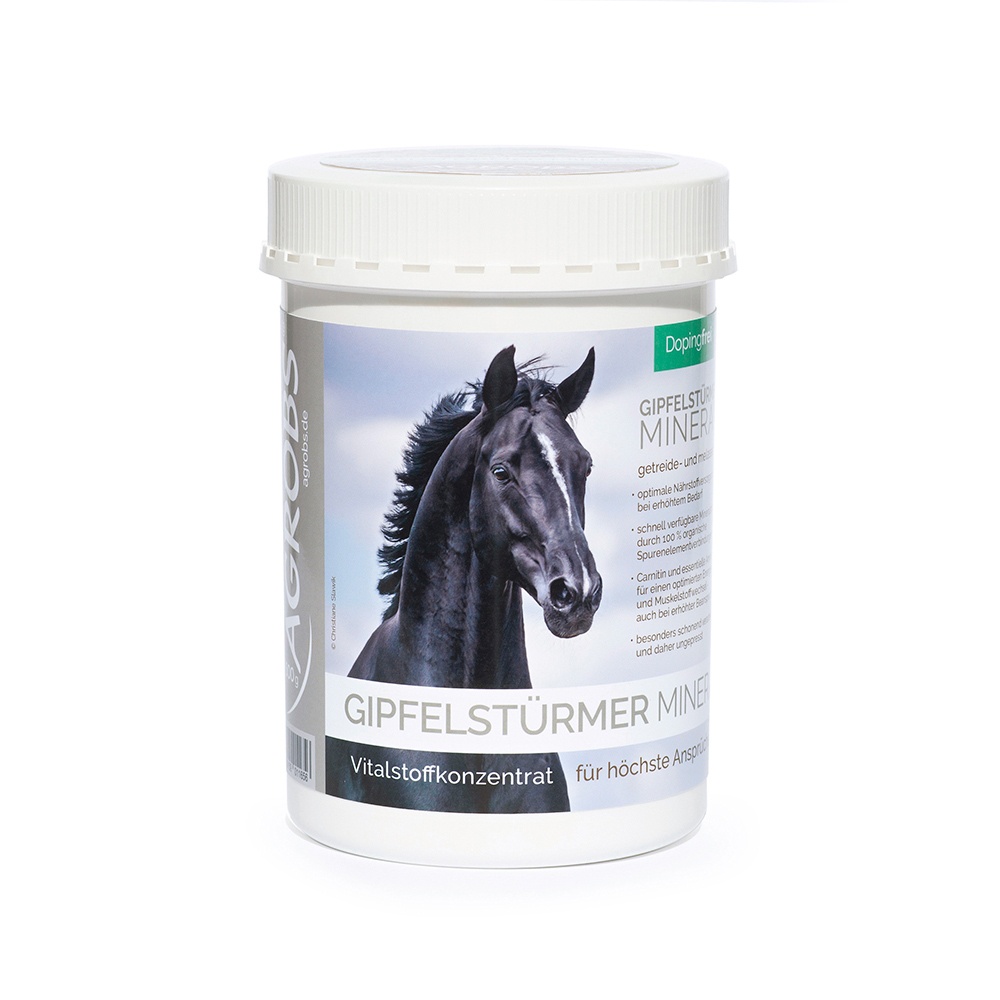 100% organically bound trace elements for optimum absorption in any situation, just when its needed
rich in vitamins E, B1, B2, B12, biotin and vitamin C
balanced spectrum of essential amino acids to build and maintain strong muscles
gently processed without pressing
L-carnitine to improve strength and endurance and optimise fat burning
no cereals, molasses or lucerne. Suitable for all horses.
the natural provitamin beta-Carotene for the body to convert into vitamin A
Commercial form:
600 g container
3 kg bucket
20 kg paper sack

Concentrate feed for horses with increased nutritional requirements
Gipfelstürmer Mineral contains all the micro-nutrients your horse needs to develop to his full potential. Whether for sport, to build muscle, or to ensure a healthy metabolism: this balanced composition of trace elements, vitamins and amino acids gives the equine organism reliable and comprehensive support to make it to the top.
The trace elements zinc, copper, manganese, iodine and selenium are components of important enzymes and hormones and therefore essential to equine nutrition. Whether in defence against pathogens, the regeneration of mucous membranes, blood formation, the synthesis of important messengers or protecting the cells from free radicals: trace elements are essential in all metabolic processes. Gipfelstürmer Mineral provides all important trace elements, 100% organically bound and just when needed in every situation. This ensures the uninterrupted function of all metabolic processes.
A horse's natural diet does not contain vitamin A, but rather beta-Carotene exclusively. The body then converts this provitamin into vitamin A as needed. It has also been demonstrated that beta-Carotene itself also takes on important functions in the equine organism, for example with fertility. Along with vitamin A, Gipfelstürmer Mineral therefore also contains valuable beta-Carotene for the production of this vitamin, particularly during winter feeding.
Gipfelstürmer Mineral contains a special blend of vitamins to support horses in situations of increased demand: abundant vitamin E protects the muscle cells during peak performance and increased demand. Extra vitamin C supports the horse in situations where demand exceeds the body's own ability to synthesise it. The horse's intestinal flora cannot always adequately compensate for the consumption of vitamins B1, B2, B12 and biotin, therefore Gipfelstürmer Mineral provides an appropriate supplement.
The body needs amino acids – the smallest building blocks of proteins – at all times to renew and build tissue. If the horse's base feed does not provide all essential amino acids in sufficient quantities, the horse's body will begin to lose muscle tone in the process of generating other important proteins. Gipfelstürmer Mineral's balanced formula specifically contains the amino acids most important for building and maintaining muscle power: methionine, lysine, and threonine. These help to counteract unwanted muscle loss and prevents muscle build-up from being limited by an inadequate supply of amino acids.
L-carnitine takes on the special role of fatty acid transporter for providing energy. Without L-carnitine, energy-rich fatty acids cannot reach the body's little cell power plants, the mitochondria. If you work to develop your horse's strength, endurance, or on targeted weight loss, his body needs more L-carnitine. The horse's ability to synthesise it from methionine and lysine can reach its limits, affecting performance. Gipfelstürmer Mineral contains methionine, lysine, and important L-carnitine as a fatty-acid activator to provide optimum support during high performance and for increased fat burning.
Gipfelstürmer Mineral's lean formula is based entirely on natural green fibres with no cereals, molasses, or lucerne, and is well tolerated by all horses. Natural herbs ensure good palatability without the need for added flavourings. The ingredients are gently processed without pressing to ensure low nutrient loss and high bioavailability for the horse. Gipfelstürmer Mineral provides the nutrients your horse needs to be healthy, motivated, and satisfied, even during strenuous work.
100% organically bound trace elements for optimum absorption in any situation, just when its needed
Rich in vitamins E, B1, B2, B12, biotin and vitamin C for the most strenuous mental and physical demands
Balanced spectrum of essential amino acids to build and maintain strong muscles
The fatty acid activator L-carnitine to improve strength and endurance and optimise fat burning
The natural provitamin beta-Carotene for the body to convert into vitamin A
Gently processed without pressing
No cereals, molasses or lucerne. Suitable for all horses.
With tasty herbs for optimum acceptance
ADMR compliant
AREAS OF USE:
With all important vitamins, macro elements, trace elements and amino acids for daily basic requirements
Suitable for all horses and ponies
Suitable for horses with increase requirements (for example during increased work in training phases or increased performance demands)
Suitable for horses with sensitive metabolisms
Feeding Recommendation
10 –15 g per 100 kg body weight, (600 kg horse = 60 to 90 g)
1 level measuring scoop = approx. 15 g
If there is an increased need, part of the mineral feed ration can also be replaced with Gipfelstürmer Mineral: 10 g of Gipfelstürmer Mineral replace 10 - 15 g of Naturmineral, Seniormineral or Weidemineral Cobs.
Due to its higher content of trace elements and vitamins compared to complete feeds, this complimentary feed should only be fed to horses in a maximum quantity of 150 g per day (based on a 600 kg horse).
Composition
Feed additive for horses, ingridients:
dried green fibres*, dicalcium phosphate, linseed cake, apple pomace, calcium carbonate, magnesium citrate, magnesium oxide, carrots, spirulina, fenugreek, aniseed
*= made of grass, herbs and legumes
Analytical components:
| | | | |
| --- | --- | --- | --- |
| Crude protein | 20.20 % | Potassium | 0.60 % |
| Crude oils and fats | 2.80 % | Starch | 2.00 % |
| Crude fibre | 7.90 % | Sugar | 6.30 % |
| Crude ash | 30.80 % | Fructan | 5.00 % |
| Calcium | 7.60 % | | |
| Phosphorus | 2.90 % | Digestible energie | 7.90 DE MJ/kg |
| Magnesium | 2.60 % | Metaboisable energie | 6.10 ME MJ/kg |
| Sodium | | Prececal digestible crude protein | 17.10 % |
Additives per kg:
| | | | |
| --- | --- | --- | --- |
| Vitamin A (3a672a) | 50 000 I.E. | Copper from copper(II) chelate of protein hydrolysates (3b407) | 1 500 mg |
| Vitamin D3 (3a671) | 30 000 I.E. | Manganese from manganese chelate of protein hydrolysate (3b505) | 4 000 mg |
| Vitamin C (3a300) | 20 000 mg | Zinc from zinc chelate of protein hydrolysates (3b612) | 6 500 mg |
| Vitamin E (3a700) | 15 000 mg | Selenium in selenium yeast, from Saccharomyces cerevisiae CNCM I-3060, inactivated (3b810) | 20 mg |
| Vitamin B1 (3a821) | 600 mg | Iodine as calcium iodate anhydrous (3b202) | 20 mg |
| Vitamin B2 (3a825ii) | 400 mg | L-lysine monohydrochloride (3c322) | 35 000 mg |
| Vitamin B12 / cyanocobalamine | 1 000 mcg | DL-methionine (3c301) | 27 000 mg |
| Beta-Carotene (3a160(a)) | 400 mg | L-threonine (3c410) | 65 000 mg |
| Biotin (3a880) | 15 000 mcg | L-Carnitine (3a910) | 10 000 mg |
Status: 01/2023