AGF26000
kraftpaket
The Strength of Plants for Energy and Performance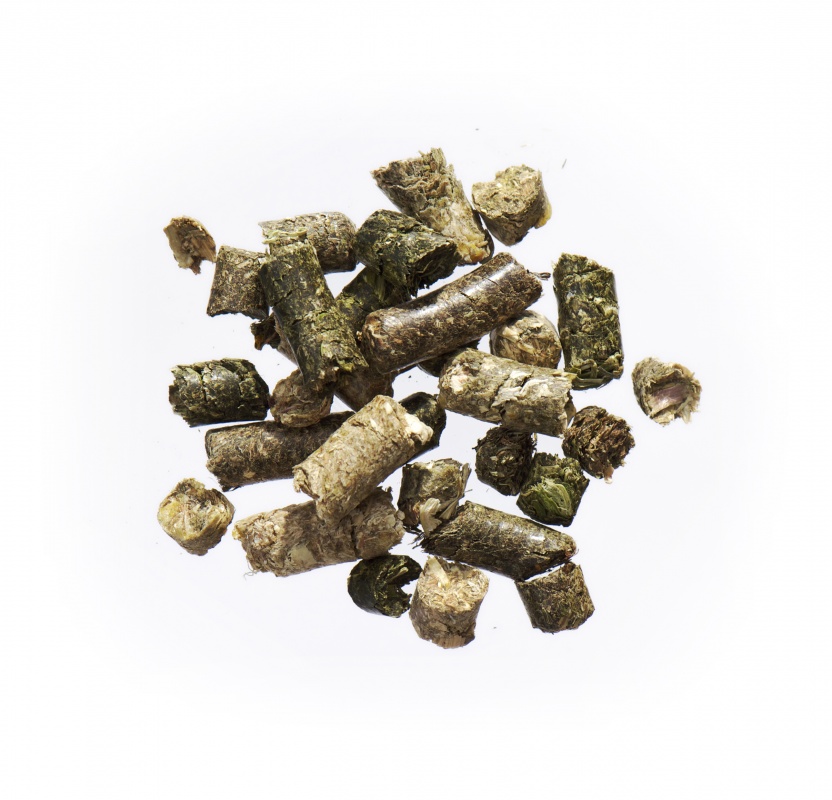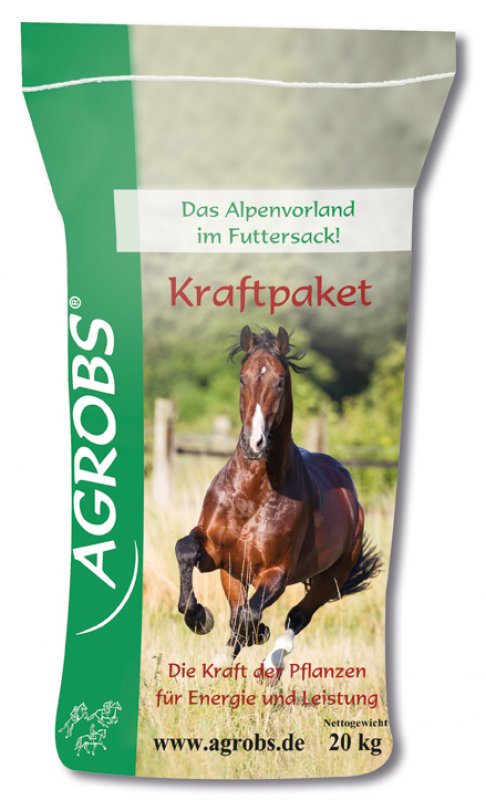 very high content of long chop for a healthy digestion thanks to use of the complete plant
free of molasses and dust
maize cobs, made of the complete plant, provide highly digestible starch and, therefore, serve as ideal energy source for build-up of underweight horses
protein-rich meadow grasses and herbs contain many natural vital substances
alfalfa cobs, rich in leaves, provide essential amino acids for muscle build-up
Commercial form:
20 kg paper sack

Horses require additional energy-rich feed for increased physical activities (e.g. during growth, pregnancy or during tournaments and sports). This is where AGROBS Kraftpaket comes into play.
Kraftpaket consists of extremely efficient natural plant components, optimally combining protein-rich meadow grasses and herbs with alfalfa and entire corn plants, thereby providing your horse with highly digestible starches in addition to healthy, natural sources of protein. Kraftpaket's fibre-rich combination is easily tolerated – digestion and metabolism are not burdened as in cases involving cereals.
Thanks to the controlled meadow cultivation as well as the gentle drying and processing of the entire plants, nutrients and vitamins can be preserved. Kraftpaket delivers high levels of essential amino acids, natural beta-carotene and vitamin E and meets the all-year needs of these vital nutrients for sport, stud and young horses.
Older horses can also profit from Kraftpaket. In the winter months, the older generation often requires more protein and energy than their younger comrades. Kraftpaket can enhance the daily feeding ration as required.
natural feed for horses with high energy requirements
rich in valuable protein (amino acids)
rich in beta-carotene and vitamin E
rich in highly digestible starches
high natural trace element content
free of molasses, dust and binding agents
GMO-free
AREAS OF USE
as build-up feed in times of increased need (growth, gestation, performance in tournaments and sports)
as complete crib feed
for enhancement of hay and silage
for healthy build-up of underweight horses as well as in case of weight loss due to old age or dental problems
Feeding Recommendation
dependent on type of horse and performance: 300 to 500 g per 100 kg ideal body weight
for build-up: 1.2 kg substitute approximately 1 kg of grain
introduce new feed gradually
AGROBS® recommends softening the cobs through soaking.
As mineral supplement, we suggest an AGROBS® mineral feed, adapted to your horse and its needs.
Composition
Compound feed for horses, ingredients:
Meadow grasses and herbs, complete maize plant, alfalfa
Analytical components:
Crude protein
11.80 %
Zinc
28.00 mg/kg
Crude oils and fats
2.50 %
Manganese
106.00 mg/kg
Crude fibre
19.20 %
Copper
7.50 mg/kg
Crude ash
10.30 %
Selenium
0.06 mg/kg
Calcium
0.65 %
Vitamine E
89.10 mg/kg
Phosphorus
0.28 %
β-Carotene
27.00 mg/kg
Magnesium
0.24 %
Lysine
0.52 %
Chloride
0.33 %
Methionine
0.20 %
Sodium
0.04 %
Cystine
0.09 %
Potassium
1.86 %
Threonine
0.48 %
Sulphur
0.17 %
Digestible energy
9.26 DE MJ/kg
Starch
7.10 %

Metabolisable energy

7.60 ME MJ/kg
Sugar
5.27 %
Prececal dig. crude protein
5.60 %
Fructan
4.79 %
The analysed values are of native origin.
The analysed sugar value is also of wholly native origin. No added artificial sugars.
Status 01/2021