AGF25000
leichtgenuss
High-Fibre, Low-Energy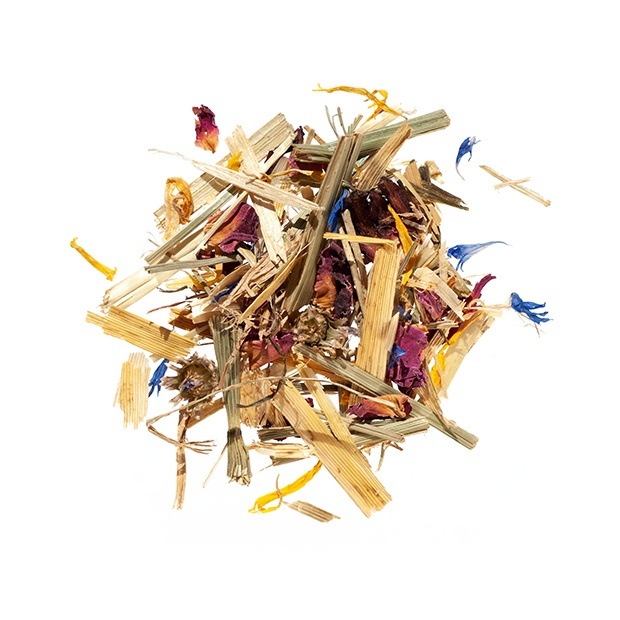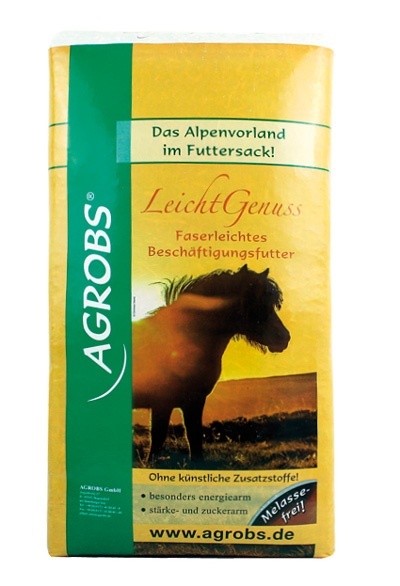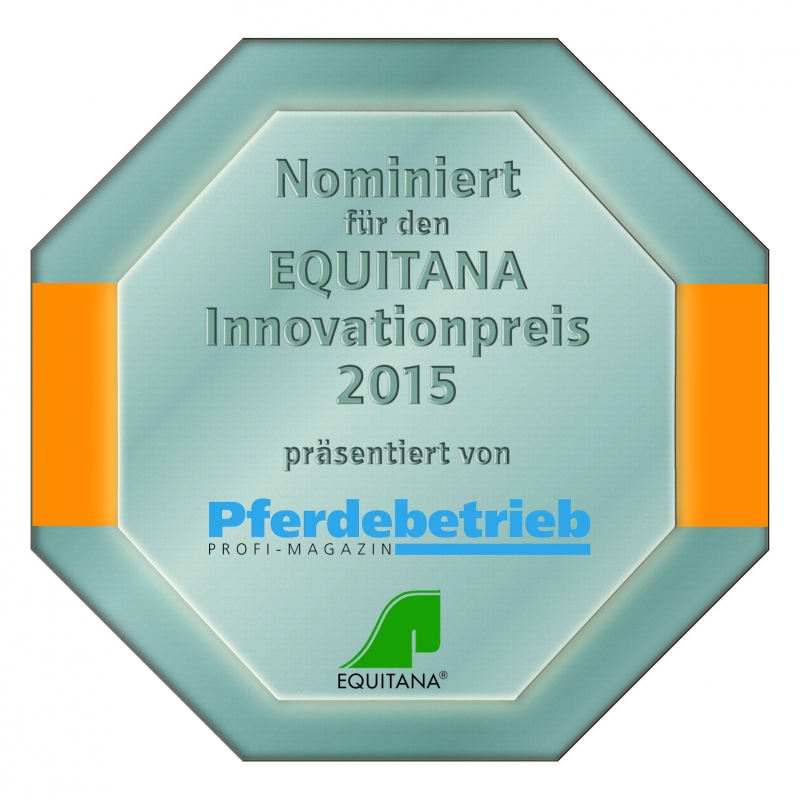 meadow grasses and herbs provide low-protein, high-quality crude fibre
marigold blossoms, tasty and rich in vital substances
very low content of energy, also appropriate during times of no performance
high-quality straw enhances occupation
hibiscus blossoms and bush rose petals provide vital substances
extremely low starch and sugar contents
green oats as tasty supplier of fibre
Commercial form:
15 kg bale

LeichtGenuss -Fibre-light active feed
The horse plays a very different role in today's society: it once served as a "workhorse", later it was used in sports. Now the horse is our friend and recreation partner, a change that has not necessarily been reflected in feeding. Many horses are overfed with cereals and energy-rich feed. The number of overweight horses and the resulting problems such as metabolic disorders has risen drastically. The newly developed LeichtGenuss from AGROBS has been created specifically to tackle this problem.
LeichtGenuss features a strong structural content that prolongs feed intake, satisfying the need to chew and supporting wear on teeth. Chaff causes better salivation, leading to better digestion. A mix of flowers provide necessary variety and deliver natural nutrients. A tasty mix of assorted root vegetables makes LeichtGenuss a highly palatable feed.
The combination of low energy grasses, herbs, green oats and straw makes LeichtGenuss from AGROBS the ideal feed for overweight horses and those with uncomplicated feeding needs as well as horses with low energy requirements.
LeichtGenuss can of course be offered to all other horses as a tasty treat as an enhancement to the daily feeding ration.
rich in fibre
particularly tasty and filling, even in small rations
extremely low starch and sugar content
very low energy content
free of molasses
AREAS OF USE
natural feed for all horses, rich in fibre
specifically for easy keepers and obese horses
high-quality feed for now and then to keep horses occupied
as feed for horses with stall rest
Feeding Recommendation
as feed to keep horses occupied: 50 to 300 g per 100 kg ideal body weight per day
for enhancement, adapted to the amount of basic feed:
1 kg substitutes approximately 1 kg of hay,
2 kg substitute approximately 1 kg of concentrated feed
Leichtgenuss can substitute up to 1/3 of the complete basic ration, if necessary
introduce new feed gradually
As mineral supplement, we suggest an AGROBS® mineral feed, adapted to your horse and its needs.
Composition
Feed additive for horses, ingredients:
meadow grasses and herbs, green oats, straw, carrots, hibiscus blossoms, rose hips, parsnips, beetroots, cornflower blossoms, bush rose petals, raspberry and blackberry leaves, marigold blossoms

Analytical components:
Crude protein
6.10 %
Fructan
4,39 %
Crude oils and fats
1.40 %
Zinc
18.00 mg/kg
Crude fibre
33.20 %
Manganese
74.80 mg/kg
Crude ash
5.60 %
Copper
4.10 mg/kg
Calcium
0.41 %
Selenium
< 0.14 mg/kg
Phosphorus
0.20 %
Lysine
0.30 %
Magnesium
0.14 %
Methionine
0.10 %
Chloride
0.22 %
Cystine
0.08 %
Sodium
0.02 %
Threonine
0.25 %
Potassium
1.32 %

Digestible energy

6.97 DE MJ / kg
Sulphur
0.12 %

Metabolisable energy

5.80 ME MJ / kg
Starch
2.72 %
Prececal dig. crude protein
3.56 %
Sugar
6.74 %
The analysed values are of native origin.
*The analysed sugar value is also of wholly native origin. No added artificial sugars.
Status 04/2022