AGF19000
luzerne+
Long Chop Lucerne Plus Green Oats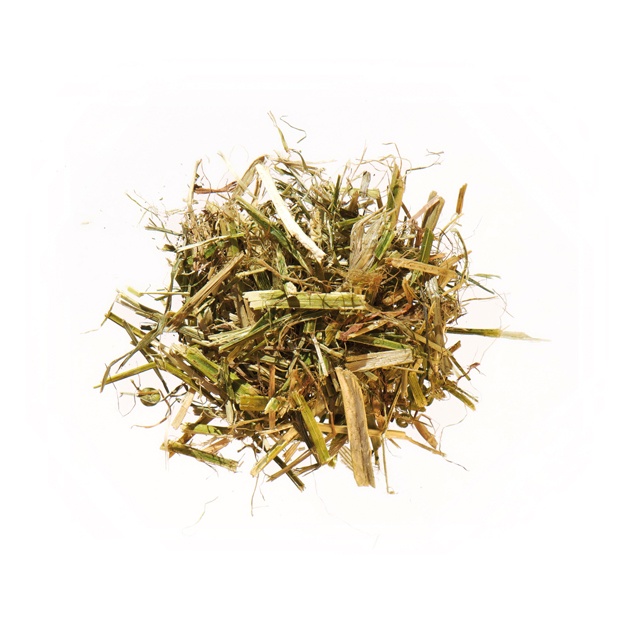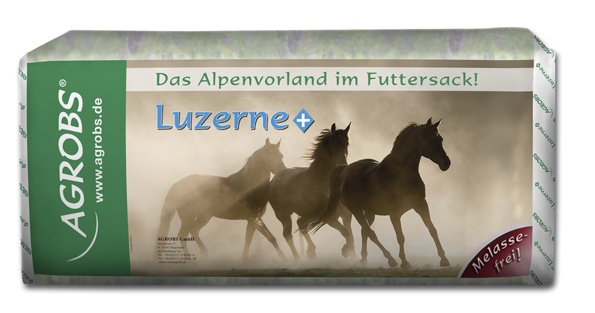 Bavarian alfalfa, rich in essential amino acids
appropriate for all horses and ponies
low in starch, fructan and sugar
appropriate for nervous and temperamental horses, also appropriate for build-up
green oat contains many natural vitamins and trace elements
rich in crude fibre, warm air-dried, free of mould and dust
Commercial form:
15 kg bale

Structural lining with the special plus
Luzerne+ contains the ideal mix of Bavarian alfalfa (Luzerne) and green oats, combining the positive feed qualities of both plants.
By nature, alfalfa is the perfect provider of essential amino acids and minerals. Green oats, a grass species, are harvested shortly after blossoming – before starch is stored in the kernel. A great deal of positive qualities are attributed to green oats: they speed up metabolism, regulate digestion and strengthen the immune system.
A high quality and healthy energy source is particularly important, not only for sport horses and studs to ensure that required performance is met, but also for leisure horses with increased energy needs or horses at a certain stage in life that profit from the high quality plant fibers in Luzerne+.
Luzerne+, through its balanced mix of 4:1 (alfalfa/green oats), delivers high grade, warm-air dried raw fiber in chopped form. Luzerne+, when used as structured feed, can lower high cereal rations, ensures an optimal Ca:P balance in cereal feed and satisfies greater need for high quality amino acids, e.g. in muscle-building phases. Luzerne+, thanks to its low starch and sugar content, is also suitable for sensitive horses and can be used as required in daily horse feed.
As a base feed supplement for
sport horses
breeding horses
horses in training
thin horses or poor doers
poor-quality base feed
As cereal replacer or supplement for
horses with sensitive digestive tracts
horses with starch and sugar sensitivities
nervous or over-temperamental horses
slower feed consumption for fast eaters
AREAS OF USE
for sport and breeding horses, horses during build-up
for horses sensitive to starch and sugar
in case of fast eaters for a slower feed intake
for underweight horses or poor doers
very tasty
Feeding Recommendation
as supplementation to basic feed: 100 to 500 g per 100 kg ideal body weight
as grain substitute: 1.2 kg substitute approximately 1 kg of grain
introduce new feed gradually
As mineral supplement, we suggest an AGROBS® mineral feed, adapted to your horse and its needs.
Composition
Feed additive for horses, ingredients:
Analytical components:
Crude protein
12.90 %
Zinc
21.00 mg/kg
Crude oils and fats
1.50 %
Manganese
53.40 mg/kg
Crude fibre
34.10 %
Copper
6.20 mg/kg
Crude ash
8.30 %
Selenium
< 0.12 mg/kg
Calcium
0.93 %
Vitamin E
18.21 mg/kg
Phosphorus
0.25 %
β-Carotene
14.00 mg/kg
Magnesium
0.17 %
Lysine
0.56 %
Chloride
0.25 %
Methionine
0.15 %
Sodium
0.015 %
Cystine
0.06 %
Potassium
2.03 %
Threonine
0.42 %
Sulphur
0.15 %
Digestible energy
6.06 DE MJ/kg
Starch
0.23 %
Metabolisable energy
4.50 ME MJ/kg
Sugar
2.70 %
Prececal dig. crude protein
7.31 %
Fructan
2.53 %
The analysed values are of native origin
The analysed sugar value is also of wholly native origin. No added artificial sugars.
Status 01/2022