AGF07000
maiscobs
From the Complete Plant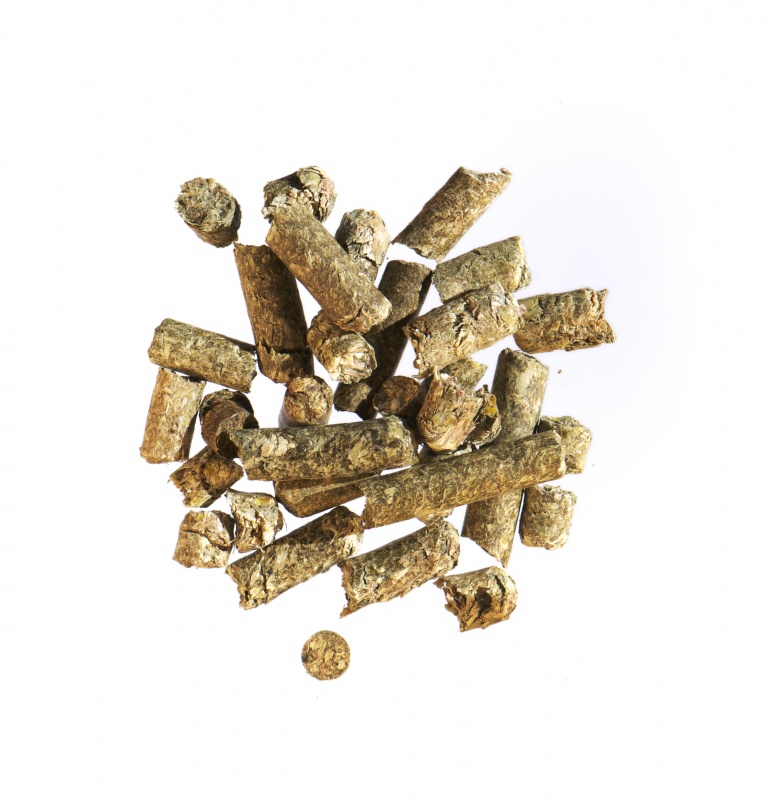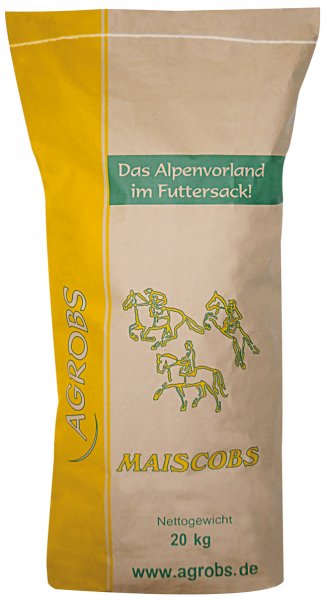 especially rich in crude fibre through use of the complete plant
appropriate for liver and kidney diets
high energy density with low protein content and high fibre content
for build-up of underweight horses and hard keepers
provide energy for endurance performance
for nervous and very temperamental horses
Commercial form:
20 kg paper sack

Feeding high-performance sport horses or horses that are difficult to feed poses special challenges. When the ability to ingest feed is reduced, it becomes more difficult to ensure an adequate supply of energy while maintaining a sufficient amount of raw fiber. Accordingly, using energy-rich basic feed is indispensable for healthy nutrition.
The entire corn plant - stem, leaves, and cobs - is used to make AGROBS MAISCOBS. This ensures that the horse will receive not only energy, but also sufficient raw fiber without its metabolism having to deal with too much starch. The plants are harvested at the optimum time, chaffed, and immediately dried in an modern drying plant using warm air. This gentle preservation process ensures there will be no nutrient-reducing fermentation and creates a product with a high energy density.
The advantage of corn cobs lies in their high raw fiber content combined with high energy density and low protein content (4.66 percent digestible raw protein). This ensures energy is released slowly and at a constant rate in the large intestine. This is a distinct benefit, especially for horses that have to perform at endurance activities such as distance, versatility and driving sports.
Nervous and temperamental horses also benefit from the high content of slow-digesting carbohydrates. Energy is released slowly and does not increase the excitability risk of nervous horses.
low in protein
high in energy
free of additives
9 mm diameter

AREAS OF USE
as build-up feed in times of increased need
in underweight and/or old horses for build-up
for a low-protein diet
in case of endurance performance (e.g. in endurance or military horses)
Feeding Recommendation
dependent on type of horse and performance: 100 to 300 g per 100 kg ideal body weight
AGROBS® recommends
softening the cobs through soaking.
As mineral supplement, we suggest an AGROBS® mineral feed, adapted to your horse and its needs.
Composition
Single feed for horses, ingredients:
complete maize plant from Bavarian cultivation
Analytic components:
Crude protein
6.40 %
Zinc
18.00 mg/kg
Crude oils and fats
2.10 %
Manganese
50.00 mg/kg
Crude fibre
21.50 %
Copper
4.00 mg/kg
Cude ash
2.30 %
Selenium
< 0.04 mg/kg
Calcium
0.25 %
Vitamine E
34.00 mg/kg
Phosphorus
0.19 %
β-Carotene
33.30 mg/kg
Magnesium
0.15 %
Lysine
0.22 %
Chloride
0.25 %
Methionine
0.11 %
Sodium
0.003 %
Cystine
0.10 %
Potassium
1.07 %
Threonine
0.23 %
Sulphur
0.08 %

Digestible energy

10.27 DE MJ / kg
Starch
20.20 %
Metabolisable energy
9.30 ME MJ/kg
Sugar
6.94 %
Precaec. dig. crude protein
4.08 %
Fructan
2.98 %
The analysed values are of native origin.
Status 01/2020