AGH19000
Nagermenü
A treat for nibbling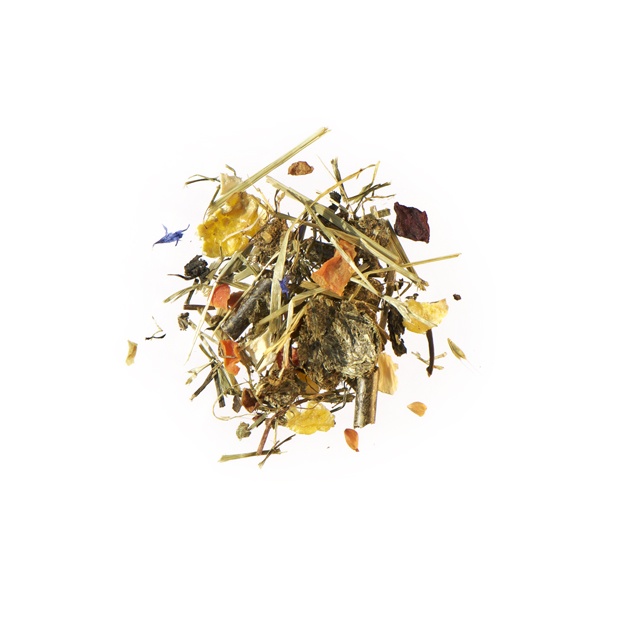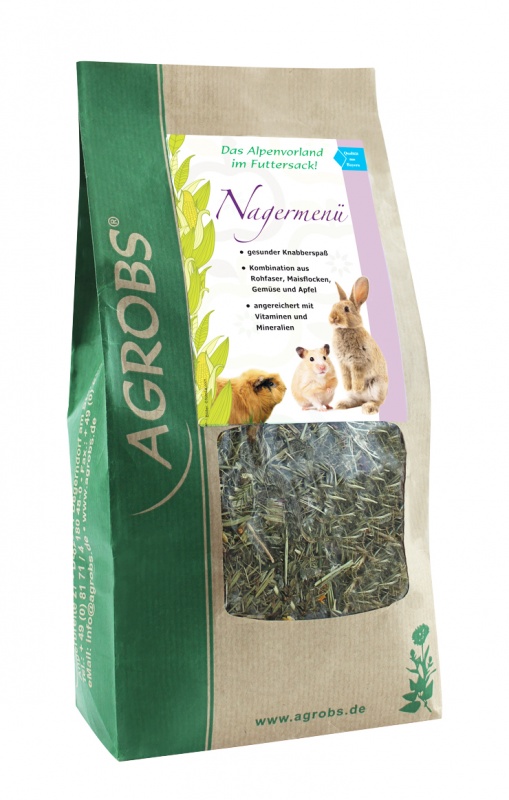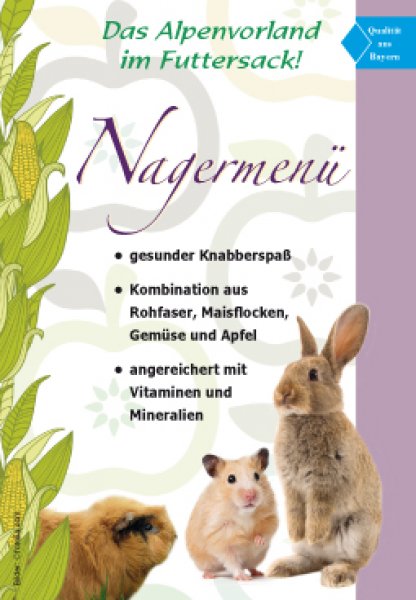 dried green plants as base
no added flavourings or preservatives
enriched with vitamins, trace elements and minerals
feed supplement
high in energy
Commercial form:
600 g bag
8 kg paper sack

Herbivorous rodents and rabbits should always be fed a high-quality hay or dry green plants that are high in crude fibre and structure.
These can be supplemented with moderate amounts of tasty, healthy treats.
A rodent's diet is based on dried green plants that supply important crude fibre. These are supplemented by Nagerbits, maize flakes, barley flakes, and dried vegetables or apples.
Nagermenü for guinea pigs and rabbits...
Roughage and supplemental feed in one
Made without added flavourings, preservatives, or binding agents
Enriched with vitamins, trace elements and minerals
Clean, low in allergens, dust-free
Important:
Guinea pigs should be provided with small quantities of fresh vegetables, greens or fruit daily for their vitamin C requirements.
Feeding Recommendation
in addition to hay
feed as needed
Composition
Feed additives for rabbits, guinea pigs, chinchillas, hamsters and degus

Ingredients:
Air-dried meadow grasses and herbs, maize flakes, barley flakes, apple pomace, cubed carrots, rose hips, cubed parsnips, cubed beets, linseed, marigold blossoms, raspberry leaves, blackberry leaves, cornflower blossoms, vitamin and mineral feed mix
Analytical components:
| | | | |
| --- | --- | --- | --- |
| Crude protein | 9.70 % | Water | 10.10 % |
| Crude oils and ash | 3.10 % | Calcium | 0.58 % |
| Crude fibre | 21.60 % | Phosphorus | 0.27 % |
| Crude ash | 7.30 % | | |
Additives per kg:
| | | | |
| --- | --- | --- | --- |
| Vitamin A (3a672a) | 225.00 I.E. | Choline chloride (3a890) | 1.26 mg |
| Vitamin D3 (3a671) | 22.50 I.E | Folic acid (3a316) | 0.63 mg |
| Vitamin E (3a700) | 20.25 mg | Biotin (3a880) | 45.00 mcg |
| Vitamin B1 (3a821) | 2.03 mg | Iron as iron(II) sulphate monohydrate (3b103) | 0.90 mg |
| Vitamin B2 / Riboflavin (3a825i) | 2.25 mg | Copper as copper(II) sulphate pentahydrate (3b405), copper(II) chelate of glycine hydrate (3b413) | 2.03 mg |
| Vitamin B6 / pyridoxine hydrochloride (3a831) | 1.13 mg | Manganese as manganese(II) sulphate, monohydrate (3b503) and manganese chelate of glycine hydrate (3b506) | 3.15 mg |
| Vitamin B12 / Cyanocobalamin | 11.25 mcg | Zinc as zinc sulphate monohydrate (3b605) and zinc chelate of glycine hydrate (3b607) | 18.00 mg |
| Calcium D pantothenate (3a841) | 2.70 mg | Selenium in selenium yeast, from Saccharomyces cerevisiae CNCM I-3060, inactivated (3b810) | 0.05 mg |
| Niacin (3a314) | 5.40 mg | Cobalt as coated granulated cobalt(II) carbonate (3b304) | 0,225 mg |
| | | Iodine as calcium iodate anhydrous (3b202) | 0.05 mg |
Status 02/2021