AGH19000
Nagermenü
A treat for nibbling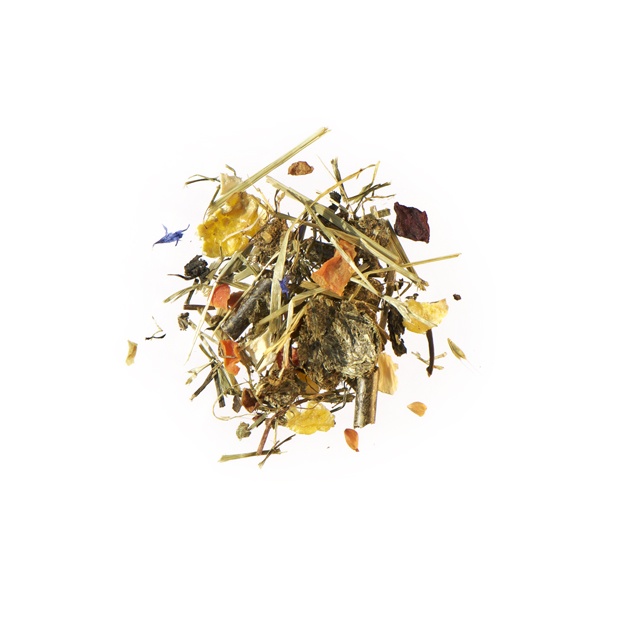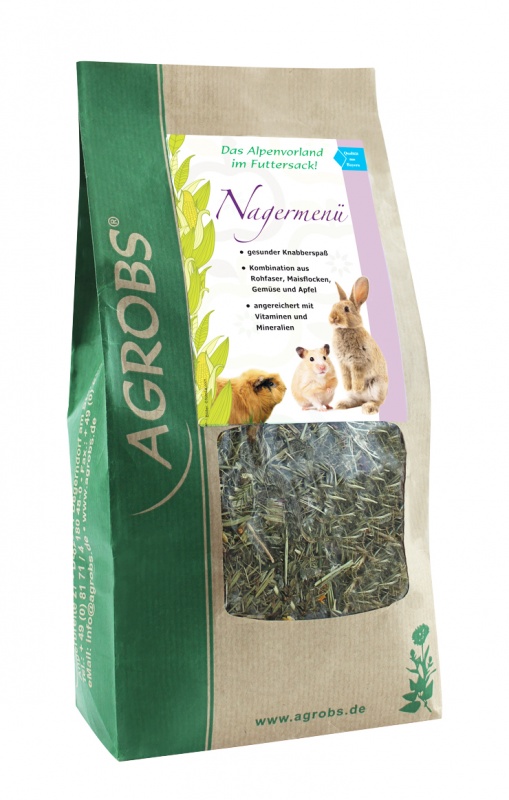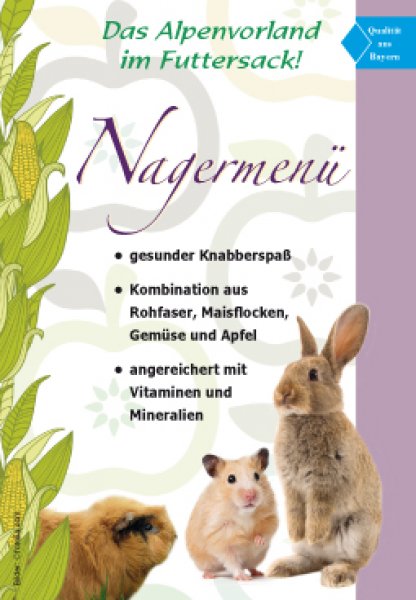 dried green plants as base
no artificial flavourings or preservatives
enriched with vitamins, trace elements and minerals
feed supplement
high in energy
Commercial form:
Nagermenü 8 kg

Herbivorous rodents and rabbits should always be fed a high-quality hay or dry green plants that are high in crude fibre and structure. These can be supplemented with moderate amounts of tasty, healthy treats.
A rodent's diet is based on dried green plants that supply important crude fibre. These are supplemented by Nagerbits, maize flakes, barley flakes, and dried vegetables or apples.
Nibbling feed for guinea pigs and rabbits...
roughage and supplemental feed in one
enriched with vitamins, trace elements and minerals
is clean, dust-free and low in allergens
no artificial flavourings or preservatives
Important:
Guinea pigs should be provided with small quantities of fresh vegetables, greens or fruit daily for their vitamin C requirements.
Feeding Recommendation
feed supplement
provide as needed
Composition
Feed aditives, Ingredints:
Air-dried meadow grasses and herbs, maize flakes, barley flakes, apple pomace, cubed carrots, rose hips, cubed parsnips, cubed beets, linseed, marigold blossoms, raspberry leaves, blackberry leaves, cornflower blossoms, vitamin and mineral feed mix
Analytic Components:
| | | | |
| --- | --- | --- | --- |
| Crude protein | 9,70 % | Water | 10,10 % |
| Crude oils and ash | 3,10 % | Calcium | 0,58 % |
| Crude fibre | 21,60 % | Phosphorus | 0,27 % |
| Crude ash | 7,30 % | | |
Additives per kg:
| | | | |
| --- | --- | --- | --- |
| Vitamin A | 225,00 I.E. | Choline chloride | 1,26 mg |
| Vitamin D3 | 22,50 I.E | Folic acid | 0,63 mg |
| Vitamin E | 20,25 mg | Biotin | 45,00 mcg |
| Vitamin B1 | 2,03 mg | Iron | 0,90 mg |
| Vitamin B2 | 2,25 mg | Copper | 2,03 mg |
| Vitamin B6 | 1,13 mg | Manganese | 3,15 mg |
| Vitamin B12 | 5,85 mcg | Zinc | 18,00 mg |
| Ca- pantothenate | 2,70 mg | Selenium | 0,05 mg |
| Nicotinic acid | 5.40 mg | Cobalt | 0,16 mg |
11/2017