AGF04000
Protein light Flakes
Low-Protein Blend of Grasses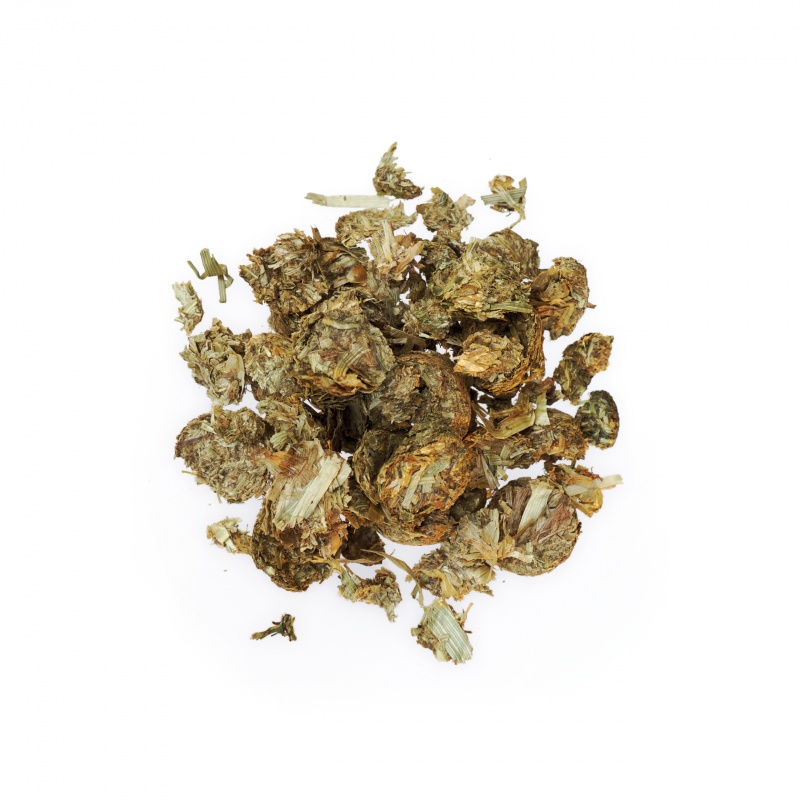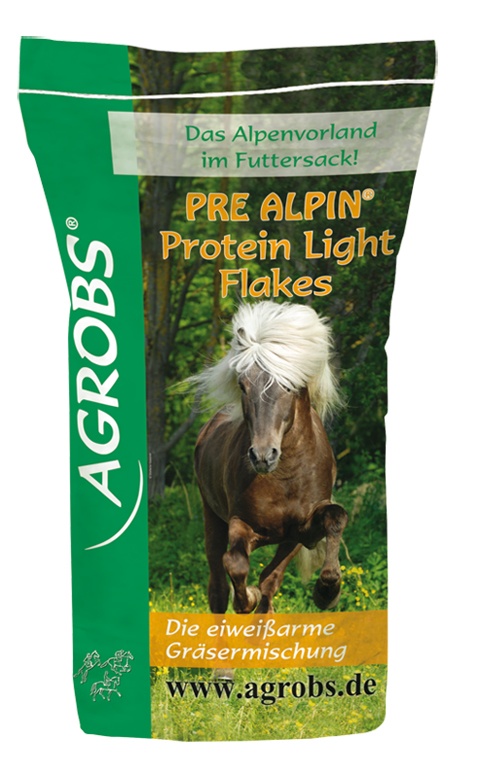 without herbs, appropriate for horses with allergies, warm air-dried
to balance protein-rich feed in form of pasture or haylage
flake size: Ø 18 mm
free of molasses and without lucerne
fast, easy, uncomplicated, ready for feeding in 5 minutes
appropriate in case of liver and kidney problems
for horses that are dependent on low contents of protein
specific low-protein blend of grasses
Commercial form:
15 kg paper sack

"You are what you eat" - this applies to horses, too. Balanced and healthy nutrition is indispensable for the welfare and health of horses.

Many horse owners see proteins as a provoction. Others view proteins as a key nutrient for building muscle mass and as a precondition for success in sports.
Proteins are essential for building up and maintaining bodily tissue, muscles, and fertility.

Protein requirements differ. Excessive protein consumption that is not matched to requirements does not improve performance, but negatively impacts the metabolism. Excess protein has to be excreted via the liver and kidneys at an additional expenditure of energy. The formation of many liver detoxifying enzymes depends on trace elements.
This means that excessive protein uptake can lead to a deficit of trace elements, which in turn may cause allergies and exzemas. In other words, the right protein content is very important.
Many horses require feed that is low in protein. For instance, comparisons between northern (e.g. Norwegian, Icelandic) and southern horse breeds (Arabians, thoroughbreds) have shown that protein requirements are about 10 percent lower of the northern horse breeds.
Scientific findings and observations highlight that horses often have an oversupply of protein when they are pastured, especially in spring and autumn. Basic feed that is low in protein and high in raw fiber can help create better balance.

Unfortunately, some horses develop an intolerance to certain active substances contained in herbs. Some horses dislike eating herbs, causing them to spurn herb-based feed.

PRE ALPIN® Protein Light Flakes is a basic feed with an extremely low protein content and without added herbs. It consists of grasses that are particularly low in protein and is produced without compressing aids or protein-lowering additives such as straw or bran.

structured feed in form of flakes
can be fed dry or soaked, ready in 5 minutes
high in fiber
free of mould and dust
special low protein mix of grasses
low fructan content
free of herbs

AREAS OF USE
as basic feed (100 % hay substitute)
for enhancement of hay, silage, pasture
in spring and fall during pasture time when the grass is young and therefore contains a lot of protein but little crude fibre
in case of respiratory problems due to dust, herbs and mould in the basic feed
in case of protein hypersensitivitiy
for a low-protein diet
for horses that are allergic to herbs or that should not consume additional herbs due to a homoeopathic treatment
Feeding Recommendation
as basic feed (100% hay substitute) approximately 1,2 to 1,5 kg per 100 kg ideal body weight per day
as concentrated feed: 1,2 kg substitute approximately 1 kg of grain
for enhancement of the basic feed: 1 kg substitutes approximately 1 kg of hay
introduce new feed gradually
AGROBS® recommends
softening the flakes through soaking.
Composition
Single feed for horses, ingredients:
Grasses
Analytical components:
Crude protein
7.00 %
Fructan
6.50 %
Crude oils and fats
1.40 %
Zinc
12.00 mg/kg
Crude fibre
34.60 %
Manganese
28.60 mg/kg
Crude ash
3.10 %
Copper
3.20 mg/kg
Calcium
0.16 %
Selenium
0.01 mg/kg
Phosphorus
0.20 %
Lysine
0.19 %
Magnesium
0.08 %
Methionine
0.08 %
Chloride
0.12 %
Cystine
0.05 %
Sodium
0.08 %
Threonine
0.26 %
Potassium
1.0 %
Digestible energy
7.13 DE MJ/kg
Sulphur
0.08 %
Metabolisable energy
5.90 ME MJ/kg
Starch
4.50 %
Prececal dig. crude protein
4.64 %
Sugar
12.30 %
The analysed values are of native origin.
The analysed sugar value is also of wholly native origin. No added artificial sugars.
Status 02/2023