3260
saatgut
Biodiversity of the Alpine Foothills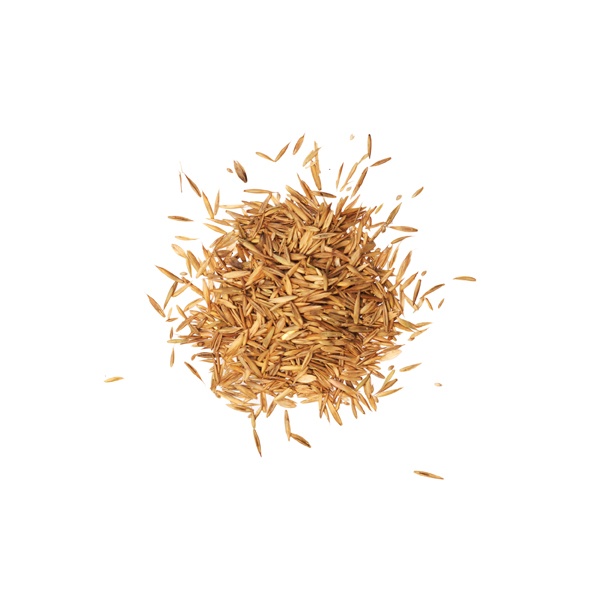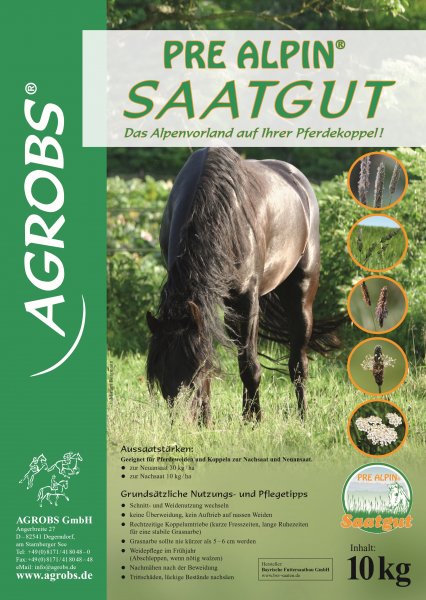 selected and various species of grasses and herbs
ideal for many locations
balanced blend of high and low grasses for horse nutrition
certified seeds from Bavarian cultures
meets the regulations of the International Seed Testing association (ISTA)
perfect for pasture and haying
Commercial form: 10 kg paper sack
The Bavarian Alpine foothills are rich in different types of grasses and herbs, on which AGROBS has based its special seed blends for pastures.
PRE ALPIN Seed features a balanced mix of over and under grasses, enhanced with important and tasty herbs, ensuring sufficient fodder yield. A thick turf is quickly established. Fast regeneration and trample-resistance guarantee durability. PRE ALPIN Seeds is perfect for all soil types.

Suitable for reseeding and new seeding.
Composition, Care & Seeding
INGREDIENTS
German rye grass, timothy grass, red fescue, meadow fescue, bluegrass, orchard grass, tall fescue, tall oat grass, meadow foxtail, golden oat grass, caraway, dill, pimpinella, wild parsley, fennel, chicory, parsnip, yarrow, ribwort, wild carrot

CARE & SEEDING
Adapted moderate fertilisation

Seeding levels:
New Seeding 30 kg / ha
Reseeding 10 kg / ha

Seeding period:
early spring or fall (october), mow at initial growth height of 15 to 20 cm

Sowing depth:
approximately 1 cm

Longevity:
perennial (up to 6 years)
Customer Rating

03.04.2019
Heidi
Top Produkt
Wir verwenden jedes Jahr dieses Saatgut und haben immer gute Erfahrungen damit gemacht.

02.04.2019
Anonym from Essen
Sehr zufrieden
Habe vor ca 3Jahren meine Weide umbrechen lassen, wegen massig Hahnenfuß.und als Neusaat mit sensitiv gemischt verwendet. Bin mit meinen Pferden glücklich über die Vielfalt an Kräutern, die nun wachsen und sogar bei entsprechender Pflege und Nachsaat den Hahnenfußanteil langsam reduzieren.

16.04.2016
Gabi Janßen from Nideggen
Sehr gute Qualität, angenehmer Duft
Bestellabwicklung und Lieferung problemlos und schnell. Da ich vom Agrobsfutter schon sehr begeistert bin (meine Pferde auch) und ich kein "Einheitssaatgut" verwenden wollte, habe ich mich für das Pre Alpin Saatgut entschieden. Das Saatgut duftet angenehm, ist staubfrei, die einzelnen Saatkörner sehen gut aus. Wir haben es zur Nachsaat benutzt, die Verarbeitung ging sehr gut. Nach zwei Wochen sind schon zarte Halme zu erkennen.

22.04.2014
Elisabeth Ginkel
Sehr ansprechende Saat
Hallo Agrobs-Team,

da die Nachsaat meiner Weide erst 8 Tage her ist, kann ich z.Zt. schlecht eine Bewertung des Wachstums abgeben. Jedoch war die Saat sehr ansprechend, schöne große Samen, keine Staube und Verunreinigungen. Also, schauen wir mal was daraus wird. Ich melde mich wieder!

Mit freundlichen Grüßen,
Elisabeth Ginkel

Am 16.05.2014

Hallo,

mit dem Keimen der Nachsaat bin ich sehr zufrieden. Soweit ich das sagen kann, sind auch alle Kräuter aufgegangen. Nun werde ich das Wachsen bis zur Samenreife abwarten und dem natürlichen Aussamen entgegensehen. Derzeit habe ich auf der Weide eine Wuchshöhe von ca. 20 bis 25 cm.

Mit freundlichen Grüßen,
Elisabeth Ginkel