AGF29000
selen pur
For Balancing a Selenium Deficiency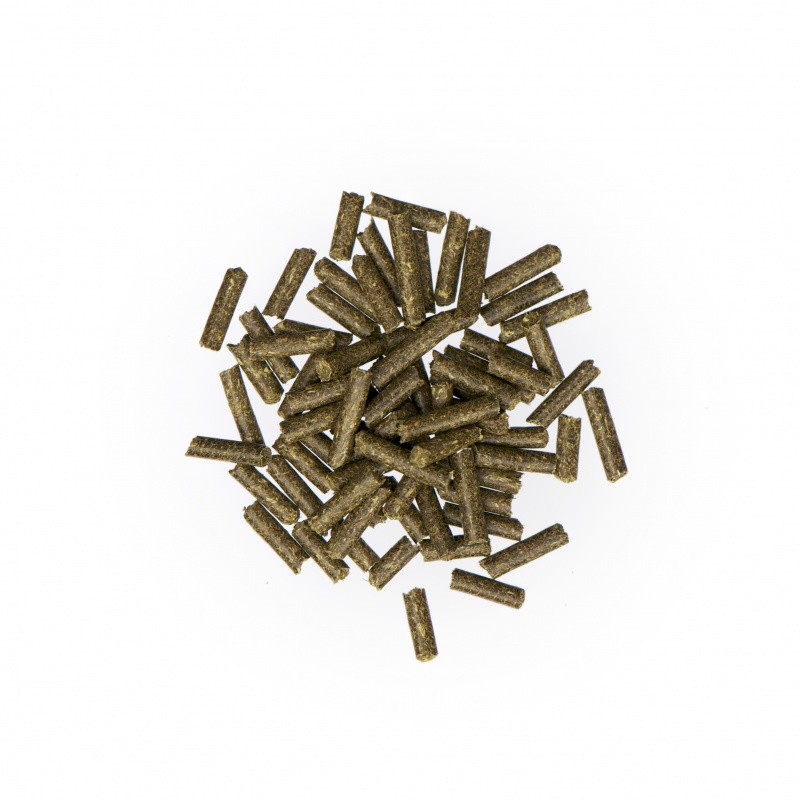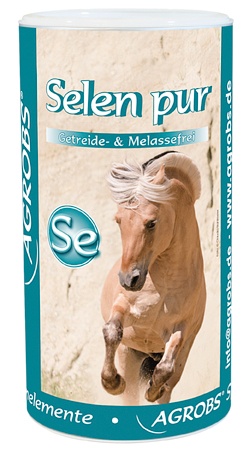 highly effective combination of fast-acting sodium selenite and organically bonded selenium
free of grain and molasses, appropriate for all horses
with vitamine E for ideal absorption
the convenient pellet form and the tasty recipe with Prenatura® dried green fibres and linseed make feeding nice and easy
Commercial form:
700 g container

Trace elements to promote strong muscles and a healthy immune system.
An inadequate supply of selenium and vitamin E can lead to muscular problems, decreased performance and susceptibility to infection. Young horses especially are at risk of skeletal and cardiovascular changes from a selenium deficiency.
AGROBS Selen pur delivers a healthy, high-quality combination of organically bound selenium and quick-acting sodium selenite to sensibly and efficiently compensate for an inadequate supply of selenium.
Selen pur's special blend of air-dried meadow grasses and herbs with linseed gives it a great taste that even fussy horses love. Its pellet form allows for easy and precise measurement.
selen pur is cereal and molasses-free
blend of organically bound selenium and quick-acting sodium selenite
with antioxidant vitamin E
compensates for selenium deficiency
improves muscle metabolism
for a healthy immune system
AREAS OF USE
specifically for balancing a selenium deficiency
for improving the muscle metabolism
for the immune systems
Feeding Recommendation
5 g per 100 kg of body weight / day
Large horses: 30 g per day (600 kg body weight)
Small horses: 20 g per day (400 kg body weight)
(1 level measuring spoon = approximately 20 g)
Composition
Feed additive for horses, ingredients:
Prenatura® dried green fibres*, linseed
* = Green fodder from grass, herbs and legume plants.
Analytic components:
| | | | |
| --- | --- | --- | --- |
| Crude protein | 7.90 % | Crude ash | 8.30 % |
| Crude oils and fats | 1.50 % | Sodium | 0,10 % |
| Crude fibre | 20.30 % | | |
Additives per kg:
| | | | |
| --- | --- | --- | --- |
| Selenium (organically bonded) | 20 mg | Vitamin E | 50 000 mg |
| Selenium (inorganically bonded) | 20 mg | | |

Status 01/2020
Customer Rating

01.09.2019
Elke Acker from Wardenburg
super lecker
Meine kleine Stute ist sehr wählerisch und frisst noch lange nicht alles. Die Selenpellets werden sogar so aus der Hand gefressen, ich brauche es nicht untermischen. Absolut super und deshalb verdient es die volle Punktzahl :-)

18.02.2018
Diana from Karlsruhe
Schmackhafte hochdosiertes Selen
füttere es als Kur im Fellwechsel

14.02.2018
Kathrin Rudolf from Pinkafeld
Sehr gut
Der Selenmangel hat sich mit einer Kür bereits aufgehoben. Mein Pony hat es gerne gefressen und das Prei-/Leistungsverhältnis stimmt

29.12.2017
Reimann from Wendelstein
Wird gern gefressen
Mein Pony ist schon mal wählerisch bei Zusatzfutter, dieses frisst es ohne Probleme. Bin sehr zufrieden, kann ich weiterempfehlen.

02.08.2017
Schilling Martin from Hohenstein -Ödenwaldstetten
Pferdefutter vom Feinsten
Schnelle Lieferung, wird von meinem 27 jährigen Wallach sehr gerne gefressen.
Show more comments