AGF24000
seniormineral
For Increased Need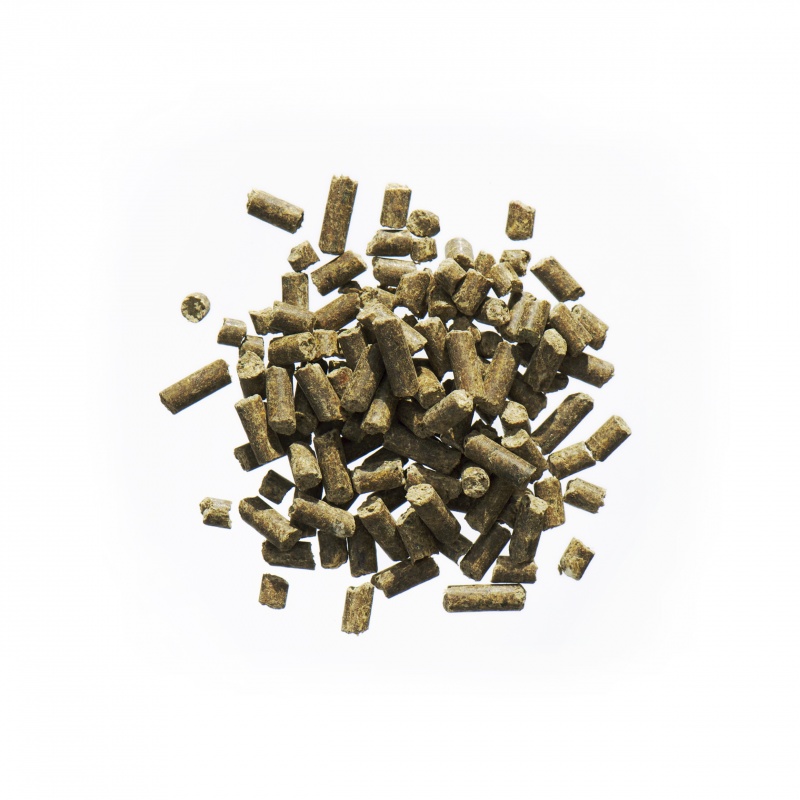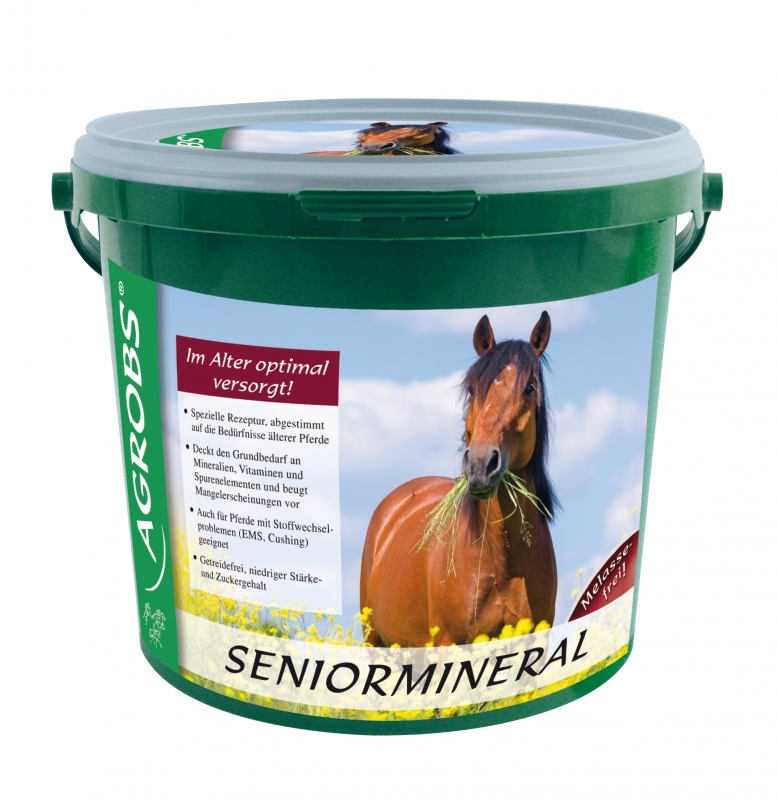 selenium and vitamine E, in combination with amino acids, support the muscle metabolism
reasonable combination of organically and inorganically bonded trace elements
pellet size: Ø 4,5 mm
rich in essential amino acids for muscle build-up and maintenance
free of grain and molasses
appropriate for all horses with an increased need (sport horses, gestation, growth, age)
based on our established PRE ALPIN® dried green fibres
yeast and selected oils enhance digestion and lead to a shiny coat
Commercial form:
3 kg bucket
10 kg bucket
25 kg paper sack

Seniormineral –
All-round care for the older horse
Seniormineral meets the needs of the senior horse. Older horses have different mineral requirements than their younger colleagues and this should be taken into account in their daily feed in order to ensure their good health, well-being and strong physical condition well into old age.
Seniormineral's recipe is based on AGROBS trusted dried green fibre which meets all the nutritional demands of a healthy diet without the addition of cereals or molasses. Seniormineral also delivers readily available nutrients such as amino acids, B vitamins and vitamin C in order to maintain good muscle structure and strengthen the immune system. Brewer's yeast stimulates digestion and selected oils (sunflower and linseed) ensure a beautiful coat. In short, the body is supplied naturally with all the necessary vitamins and fatty acids required. Fruit, vegetables and rose hip round off the recipe making Seniormineral a valuable and healthy contribution to the well-being of your horse.
Seniormineral from AGROBS is suitable for all types of horse. Thanks to the low starch and sugar content and the complete lack of cereals, the feed is also perfect for sensitive animals such as those suffering from metabolic disorders (Equine Cushing Syndrome, Equine Metabolic Syndrome) or allergies.
free from cereals
based on trusted Pre Alpin dried green fibre
contains all important vitamins, minerals, and trace elements
rich in amino acids
balanced calcium/phosphorus levels
free from molasses
reduced starch and sugar content
AREAS OF USE
for daily essential nutrition with all important vitamins, minerals, trace elements, and amino acids
for old and aging horses
also appropriate for horses with increased need (e.g. during growth phase, in case of increased stress during training phases or increased performance rates)
appropriate for horses with a sensitiv metabolism
Feeding Recommendation
10 to 15 g per 100 kg body weight per day
(1 level measuring spoon = approximately 15 g)
Composition
Mineral feed for horses, ingredients:
Dicalcium phosphate, PRE
ALPIN®
dried green
fibres*, calcium carbonate,
seed oil mixture
(
linseed
,
black seed, sunflower
)
, brewer's yeast and brewer's yeast products, chalk from sea algae, salt, carrots
, magnesium sulphate, beetroot
, rose hips


*= made of grass, herbs and legumes
Analytical components:
| | | | |
| --- | --- | --- | --- |
| Crude protein | 10.00 % | Magnesium | 2.00 % |
| Crude oils and fats | 5.00 % | Sodium | 0.87 % |
| Crude fibre | 7.00 % | | |
| Crude ash | 45.00 % | Cystine | 0.06 % |
| Ash insoluble in hydrochloric acid | 2,50 % | Threonine | 0.22 % |
| Calcium | 13.00 % | Starch and sugar | 3.50 % |
| Phosphorus | 5.00 % | metabolisable energie | 5.80 ME MJ/kg |
The analysed sugar value is also of wholly native origin. No added artificial sugars.
Additives

per kg

:
| | | | |
| --- | --- | --- | --- |
| Vitamin A (3a672a) | 100 000 I.E. | Folic acid (3a316) | 200 mg |
| Vitamin D3 (3a671) | 11 000 I.E. | Biotin (3a880) | 15 000 mcg |
| Vitamin C (3a300) | 20 000 mg | Iron as iron(II) sulphate monohydrate (3b103) | 500 mg |
| Vitamin E (3a700) | 15 000 mg | Copper as copper(II) sulphate pentahydrate (3b405), copper(II) chelate of glycine hydrate (solid) (3b413) | 1 000 mg |
| Vitamin B1 (3a821) | 600 mg | Manganese as manganese(II) sulphate, monohydrate (3b503) and manganese chelate of glycine hydrate (3b506) | 1 400 mg |
| Vitamin B2 / Riboflavin (3a825i) | 550 mg | Zinc as zinc sulphate monohydrate (3b605) and zinc chelate of glycine hydrate (solid) (3b607) | 6 000 mg |
| Vitamin B6 / pyridoxine hydrochloride (3a831) | 400 mg | Selenium in selenium yeast, from Saccharomyces cerevisiae CNCM I-3060, inactivated (3b810) | 15 mg |
| Vitamin B12 / Cyanocobalamin | 2 300 mcg | Iodine as calcium iodate anhydrous (3b202) | 10 mg |
| Calcium D pantothenate (3a841) | 1 000 mg | Cobalt as coated granulated cobalt(II) carbonate (3b304) | 50 mg |
| Niacin (3a314) | 2 200 mg | DL-methionine (technically clean) (3c301) | 25 000 mg |
| Choline chloride (3a890) | 500 mg | L-lysine monohydrochloride (technically clean) (3c322) | 24 000 mg |
Status: 05/2023