AGN01000
Sensitiv Plus
Low-protein, low-energy base feed for small ruminants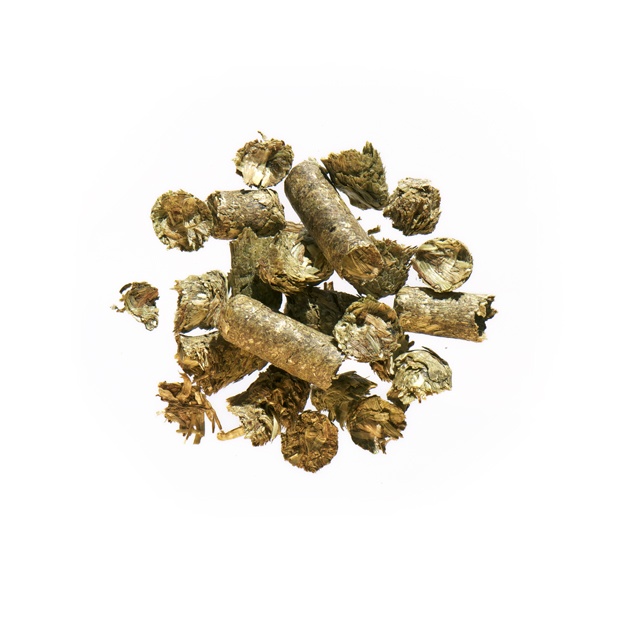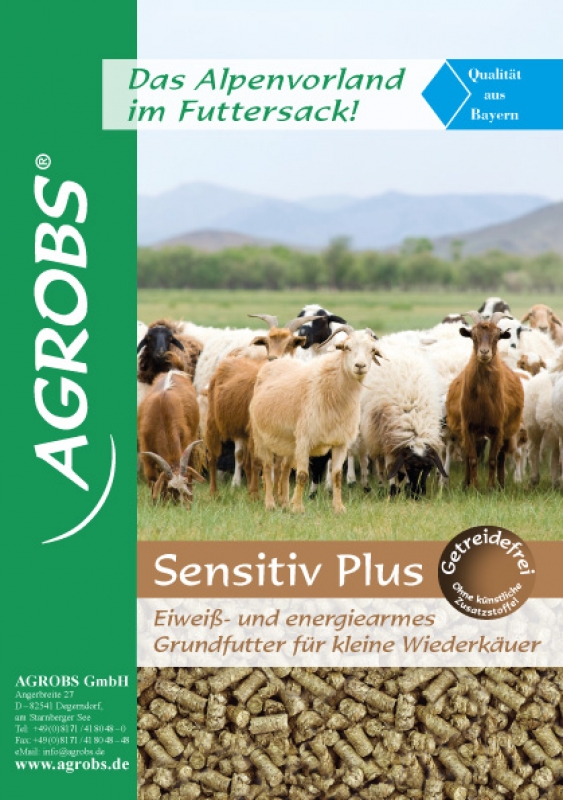 especially high in crude fibre
very low in protein
free from mould and dust
for low-protein, low-calcium diets
Commercial form:
20 kg paper bag

When sheep and goats are fed fresh, young green fodder or high-cereal feeds, they are often provided with too much protein and energy for their nutritional needs.
Sensitiv Plus from AGROBS can help.
Sensitiv Plus is a roughage/base feed made from grasses that are very low in protein yet high in crude fibre to aid metabolism. The high fibre in Sensitiv Plus ensures an optimum supply of roughage and aids digestion, promoting a healthy balance of intestinal flora in animals with digestive problems. Sensitiv Plus is extremely low in protein, making it a fitting alternative to base feed or crib fodder, especially for animals with kidney problems or susceptibility to kidney stones. Its high fibre satisfies the animals' chewing and rumination needs, promotes salivation and aids rumen flora.
Sensitiv Plus is recommended for all small ruminants, especially those kept as hobby animals.
Sensitiv Plus:
especially high in crude fibre
very low in protein
free from fungi and dust
practical 9 mm pellets
AREAS OF USE:
for hand feeding and feed dispensers in petting zoos
as a supplement to pasture grazing in spring and autumn, when the grass is young and therefore is high in protein and low in crude fibre
as a supplement to hay and silage
for animals with protein intolerances
for low-protein, low-calcium diets
Feeding Recommendation
as a substitute for base feed: 1 kg Sensitiv Plus in place of 1 kg hay
as a high-fibre feed supplement: approx. 100–300 g per 50 kg of body weigh (for example for hobby or petting zoo animals, or as a crude fibre supplement to pasture)
the feed can also be soaked in water if desired.
Composition
Single feed, Ingredients:
Grasses
Analytical components:
| | | | |
| --- | --- | --- | --- |
| Crude protein | 5,30 % | Manganese | 14,00 mg/kg |
| Crude oil and fafs | 1,10 % | Copper | 4,10 mg/kg |
| Crude Fibre | 29,70 % | selenium | 0,07 mg/kg |
| Crude ash | 3,60 % | Starch | 11,20 % |
| Calcium | 0,30 % | Sugar | 7,30 % |
| Phosphorus | 0,22 % | Fructan | 6,14 % |
| Magnesium | 0,08 % | | |
| Zinc | 16,00 mg/kg | Metabolisable energy | 9,28 ME MJ/kg |
6/2015