AGN01000
Sensitiv Plus
Low-protein, low-energy base feed for small ruminants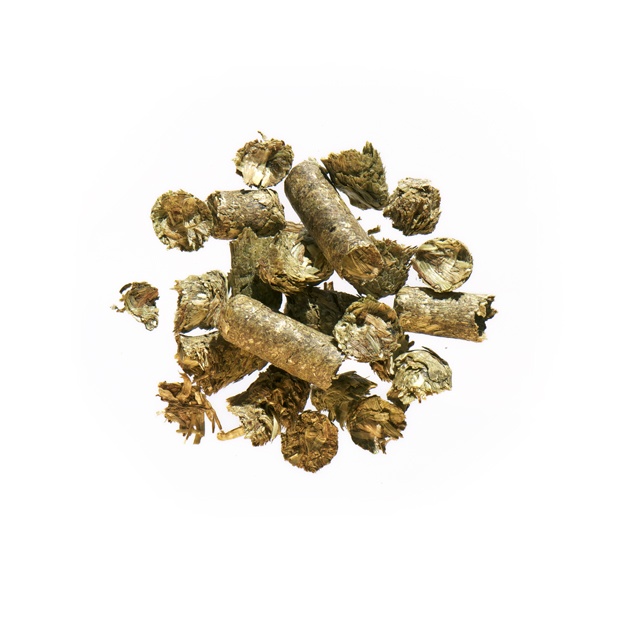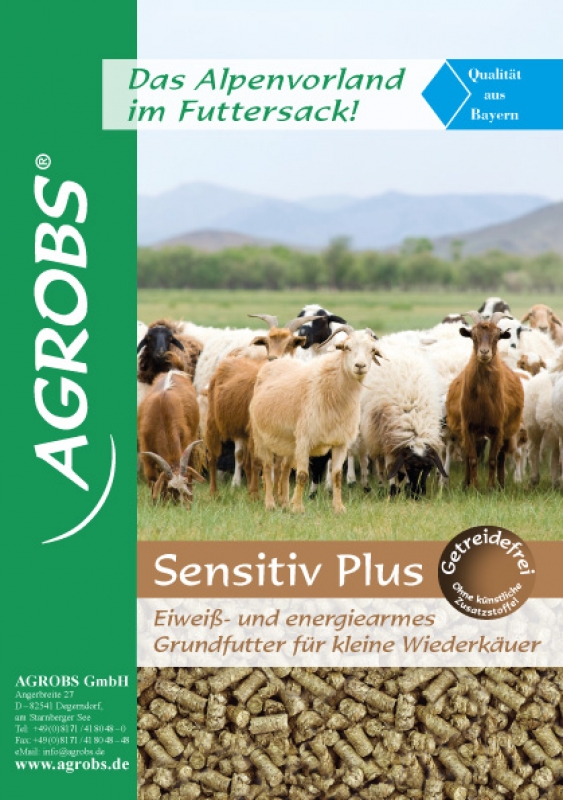 especially high in crude fibre
very low in protein
free from mould and dust
for low-protein, low-calcium diets
Commercial form:
20 kg paper bag

Sheep and goats often consume too much protein and energy when they feed on fresh young forage or high quantities of cereals.
Here is where Sensitiv Plus from Agrobs can help.
Sensitiv Plus is a forage consisting of select low-protein grasses which also provides sufficient crude fibre to meet the needs of sensitive small ruminants. Sensitiv Plus is a high-structure feed that ensures an optimum supply of roughage and aids digestion. The reduced protein content in Sensitiv Plus makes it the fitting alternative to conventional forage and concentrate feeds, especially for animals that have kidney problems or are susceptible to kidney stones. Naturally low in copper, Sensitiv Plus can also be fed long-term to sheep without hesitation. Its structure satisfies the chewing needs of ruminants and promotes saliva production to support the natural microorganisms in the rumen. When soaked in water, the pellets can be used as a forage substitute for older animals or animals with dental issues.
Sensitiv Plus is generally recommended for all small ruminants, especially hobby farm animals.
Sensitiv Plus is:
especially high in crude fibre
low in protein, calcium, and copper
free of moulds and dust
in practical 9 mm pellet form
USES
For hand feeding and automatic feeders in petting zoos
When soaked, as a forage substitute for animals with dental problems
As a spring/autumn supplement to pasture, when young grasses are high in protein
and low in crude fibre
To supplement hay and silage
For low-protein, low-calcium diets
Feeding Recommendation
as a substitute for base feed: 1 kg Sensitiv Plus in place of 1 kg hay
as a high-fibre feed supplement: approx. 100–300 g per 50 kg of body weigh (for example for hobby or petting zoo animals, or as a crude fibre supplement to pasture)
the feed can also be soaked in water if desired.
Composition
Single feed for small ruminants (sheep, goat) , ingredients:
Grasses
Analytical components:
| | | | |
| --- | --- | --- | --- |
| Crude protein | 6.20 % | Manganese | 33.80 mg/kg |
| Crude oil and fafs | 1.60 % | Copper | 3.50 mg/kg |
| Crude Fibre | 31.90 % | Selenium | 0.021 mg/kg |
| Crude ash | 6.20 % | Starch | 8.20 % |
| Calcium | 0.21 % | Sugar | 11.40 % |
| Phosphorus | 0.22 % | Fructan | 3.50 % |
| Magnesium | 0.07 % | | |
| Zinc | 18.00 mg/kg | Metabolisable energy | 8.20 MJ/kg UE |
Status: 07/2022