AGF21000
weidemineral-cobs
Perfect during Grazing Season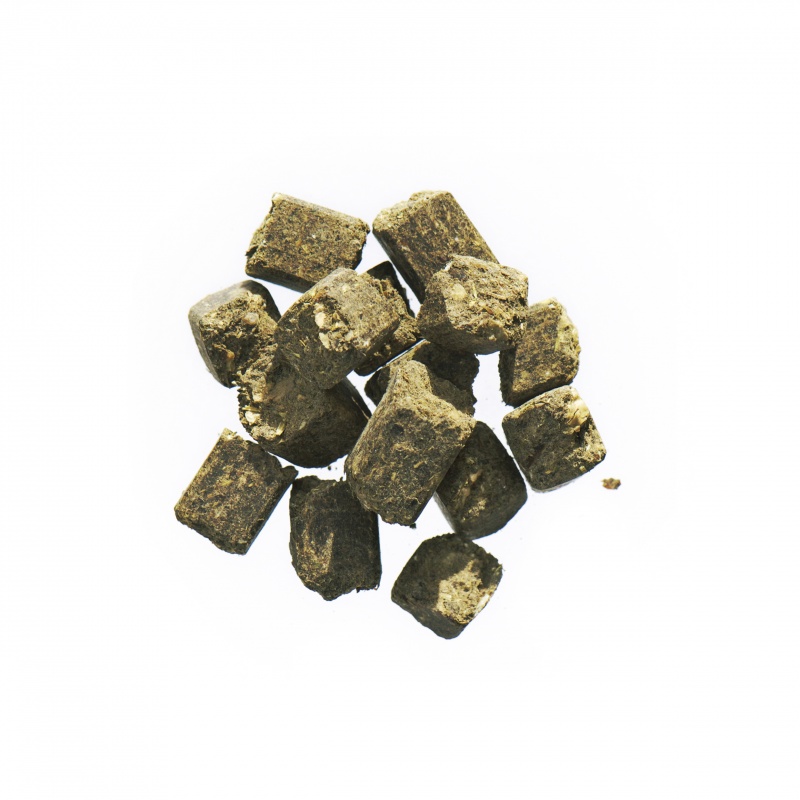 based on our established PRE ALPIN® dried green fibres
reasonable combination of organically and inorganically bonded trace elements
small amount needed, in the practical form of a treat
free of grain an molasses
appropriate for all horses and ponies due to its low starch and sugar contents
balanced calcium-phosphorus-ratio
contains all essential minerals and trace elements
without addition of artificial vitamins
Commercial form:
3 kg bucket
10 kg bucket
25 kg paper sack

Well suplied in the grazing season
AGROBS Weidemineral-Cobs (Meadow Mineral Cobs), the nutrient provider in treat form, ensure horses are well-catered for through the grazing period thanks to their high content of vital nutrients, vitamins and trace elements. Daily feeding, even in small doses, can lead to fodder-induced gaps that can occur during grazing being filled.
Grazing seldom adequately covers important trace elements such as selenium and zinc. Weidemineral-Cobs, thanks to their recipe specially chosen for the summer months, can balance this effectively. Chlorella algae, milk thistle and beetroot all help to relieve metabolism and boost the well being of horses. Hempseed and silica deliver important nutrients leading to healthy skin and a beautiful coat.
Weidemineral-Cobs, based on PRE ALPIN dried green fibre and without added molasses, provide appropriate nourishment. AGROBS has deliberately done without added vitamins as horses receive enough natural vitamins during the grazing period.
AGROBS Weidemineral-Cobs are suitable for all horses. Thanks to their low sugar and starch content, they can also be fed to sensitive horses or those suffering from laminitis or EMS.
AREAS OF USE:
for the daily basic supply with all important minerals and trace elements during the grazing season
appropriate for all horses and ponies
ideal treat substitute in obese horses
Feeding Recommendation
10 to 15 g per 100 kg body weight per day
This is equivalent to 2 to 3 cobs per 100 kg body weight per day
(1 cob = approimately 5 g).
Composition
Mineral feed for horses, ingredients:
Pre Alpin® dried green fibres, dicalcium phosphate (in mineral form), chalk from seal algae, apple pomace, linseed, salt, chlorella algae, magnesium fumarate, magnesium oxide, hemp seed, oil mixture (linseed, sunflower, black cumin), beetroot, holy thistle, yeast and yeast extracts, apple syrup.
*= made of grass, herbs and legumes
Analytic component:
| | | | |
| --- | --- | --- | --- |
| Crude protein | 7.40 % | Calcium | 7.70 % |
| Crude oils and fats | 7.40 % | Phosphorus | 2.50 % |
| Crude fibre | 9.00 % | Magnesium | 1.70 % |
| Crude ash | 45.00 % | Sodium | 3.80 % |
| Hydrochloric acid, insoluble ash | 4.00 | Starch | 3.60 % |
| | | Sugar | 3.40 % |

Additives per kg:
Iron ** Fe(II ) sulphate monohydrate E1
200 mg
Selenium *
(inactivated selenium yeast)
10 mg
Copper *+** CU (II ) sulphate pentahydrate E4 u. Amino acids-Cu-chelate, hydrate
500 mg
Cobalt ** (coated CO (II ) carbonate granulate (3b304))
50 mg
Manganese *+** Mn(II ) sulphate monohydrate E5 u. Amino acids-Mn-chelate, hydrate
700 mg
Iodine ** (Ca-Jodat E2)
10 mg
Zinc *+** Zn-sulphate monohydrate E6 u. Amino acids-Zn-chelate, hydrate
4 000 mg
Technological additive:
Silica 4 000 mg
* organically bonded
** inorganically bonded
The analysed sugar value is also of wholly native origin. No added artificial sugars.
Status 01/2020
Customer Rating

14.05.2020
Julia from Berlin
Super Mineralien und schmackhaft
Mein Pferd frisst die Brix aber das ist auf keine Kunst. Wichtig waren mir vor allem die Natürlichkeit und möglichst wenig künstliche Zusätze. Ergebnis ist abzuwarten füttere sie erst seit kurzem.

04.09.2019
Anonym from Celle
Super Mineral
Durch die Leckerligröße einfach zu verabreichen, da man keine Futterschüssel mitnehmen muss. Meine Pferde vertragen das Mineral sehr gut und man erkennt am Fellglanz, dass sie damit gut versorgt sind.

19.08.2019
Petra from Lindau/Bodensee
Mineralleckerli
gutes Produkt, wird gern gefressen, Bestellung & Lieferung einfach und problemlos

23.07.2019
C. Franz from Odenwald
wird gerne gefressen
Meine Pferde bekommen nur AGROBS Mineralfutter, im Sommer das Weidemineral, wird gerne gefressen und unser jährliches Blutbild fällt immer top aus

19.06.2019
Anonym from Berg Gladbach
Leider Frist mein Pony die Mineralien nicht
Im Gegensatz zu den Naturmineralien von Agrobs Frist mein Pony die Weidemineralien nicht
Show more comments