AGN02000
Wildstruktur
NEW - feed for wild deer with crude fibre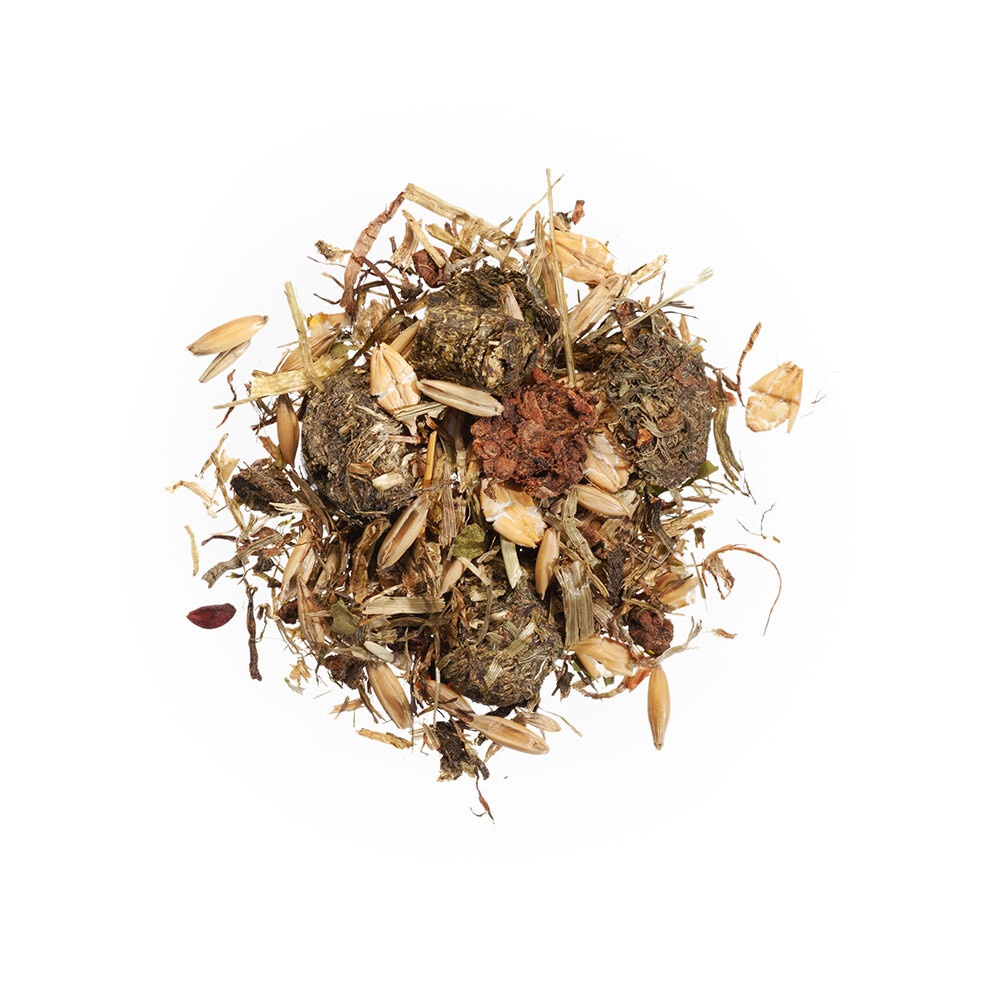 regionally from the Bavarian Alpine foothills
Pre Alpin® dried green fibres provide highly digestible crude fibre
Myoalpin® fibres and lucerne provide high-quality, proteins of crude fibre and essential amino acids
yellow oats and hydrothermally processed barley flakes deliver energy from easily digestible starch – with no corn!
sainfoin contains condensed tannins and can have an anthelmintic effect
linseed cake and linseed oil as a source of essential fatty acids
apple yeast and lovage as healthy, good-tasting components
Commercial form:
20 kg paper sack

The feeding of game is both a special responsibility and a great challenge. The aim of providing feeding to wildlife should be to compensate for seasonal food shortages and restricted habitat, and thus reduce forest damage to due nibbling.
This requires high-fibre feedstuffs which are appropriate for ruminants, attuned to wildlife physiology, and contain high-quality raw materials.
The physiology of the digestive system of deer is somewhat complicated. Deer are ruminants; the food they eat is chewed, swallowed and lands first in the rumen, then later in the reticulum, omasum and abomasum. Part of the consumed food will be remasticated, depending on the composition and size of feed particles. The frequency of the remastication process increases with the proportion of crude fibre in the feed.
Unlike concentrate feed mixes, AGROBS Wildstruktur is high in crude fibre consisting of dried green fibres from meadow grasses and herbs from the Alpine foothills and from fine lucerne fibres supplying valuable protein. The inclusion of grains high in crude fibre, such as yellow oats and barley, ensures a source of starch to provide deer with high-energy and high-quality carbohydrates. Linseed cake and linseed oil provide a moderate supply of energy through essential fatty acids. The addition of sainfoin as a source of condensed tannins has proven beneficial to small ruminants used in agriculture. Tannins help to maintain a healthy local immune system of the digestive tract and promote an environment resistant to worms. Tasty apple pomace is known to make the feed attractive to deer.
Adapted to the natural diets of deer
Provides an optimum supply of crude fibre
No molasses or artificial additives
Moderate protein supply from regional resources like lucerne
Yellow oats and hydrothermally processed barley flakes deliver energy from easily digestible starch – with no corn!
Delicious taste from apple pomace and lovage
USE:
As a high-nutrient supplemental feed
To supplement hay and pasture feeding
To help reduce damage to forests
Feeding Recommendation
Make freely available as needed along with hay and water.
Composition
Feed additives for game ruminants, ingredients:
Pre Alpin® dried green fibres*, yellow oats, Myoalpin® fibres*, lucerne, barley flakes, sainfoin flakes, apple yeast, linseed cake, linseed oil,
lovage
*= made of grass, herbs and legumes
Analytical components:
| | | | |
| --- | --- | --- | --- |
| Crude protein | 12.00 % | Chloride | 0.20 % |
| Crude oil and crude fats | 3.80 % | Sodium | 0.04 % |
| Crude fibre | 19.10 % | Potassium | 1.30 % |
| Crude ash | 7.00 % | | |
| | | Starch | 13.60 % |
| Calcium | 0.50 % | Sugar | 5.00 % |
| Phosphorus | 0.30 % | Copper | 6.2 mg/kg |
| Magnesium | 0.20 % | Prececal dig. crude protein | 6.20 % |
The analysed values are of native origin.
The analysed sugar value is also of wholly native origin. No added artificial sugars.
Status: 11/2020