AGH17000
Nagerbits
Energy-rich pellets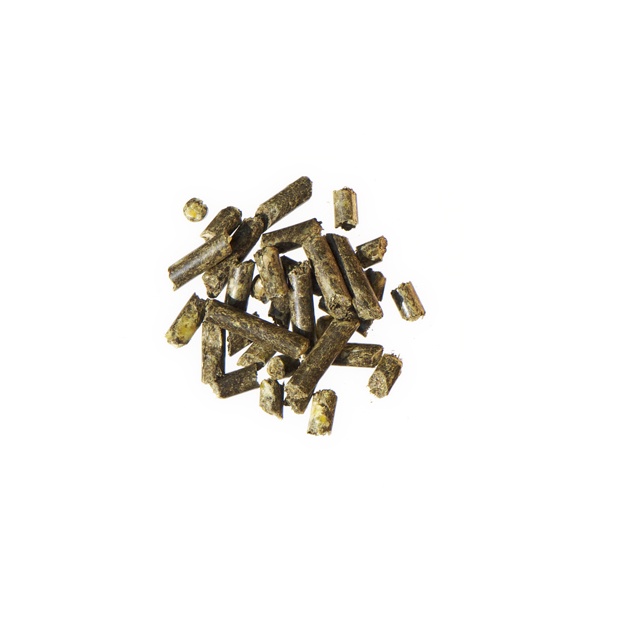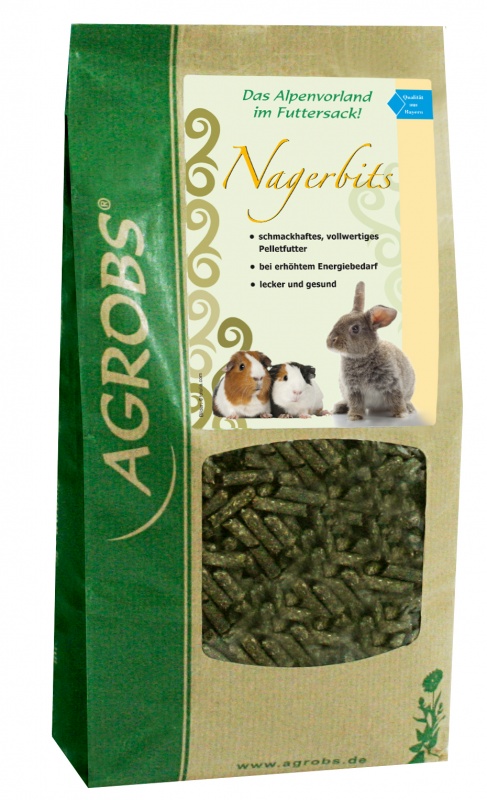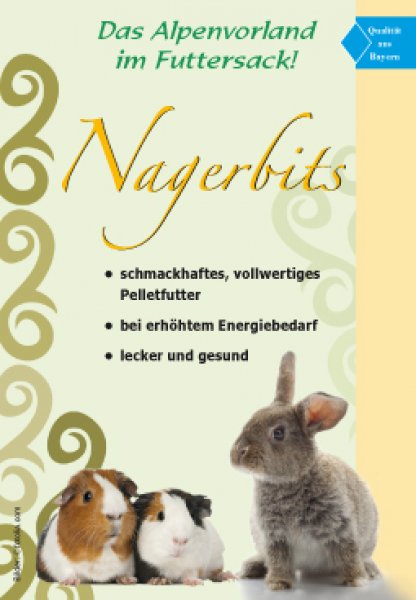 mineralised
hydrothermally processed cereals
no artificial flavourings or preservatives
Commercial form:
1.5 kg bag
12.5 kg paper sack

Animals with increased physical demands (e.g. growth, pregnancy, lactation) need a supplement of energy-rich food mixed with vitamins, minerals and trace elements.
Nagerbits for guinea pigs and rabbits are made from high-quality, air-dried meadow grass, barley, maize, linseed and a healthy mix of vitamins and minerals.
It promotes a healthy metabolism, digestion and immune system.
Nagerbits for all herbivorous rodents and rabbits…
Ideal base feed supplement
Contains only organically grown, Naturland-certified ingredients
Contains hydrothermally processed cereals
Made without flavourings, preservatives or binding agents
Important:
Guinea pigs should be provided with small quantities of fresh vegetables, greens or fruit daily for their vitamin C requirements.
Feeding Recommendation
in addition to hay
feed as needed
Composition
Feed additives for rabbits, guinea pigs, chinchillas, hamsters and degus

Ingredients:
Air-dried meadow grasses and herbs, cracked maize, cracked barley, linseed, cornflower, mix of vitamins and minerals
Analytical components:
| | | | |
| --- | --- | --- | --- |
| Crude protein | 10.50 % | Water | 9.90 % |
| Crude oil and fats | 3.20 % | Calcium | 0.77 % |
| Crdue fibre | 20.40 % | Phosphor | 0.32 % |
| Crude ash | 8.90 % | | |
Additives per kg:
| | | | |
| --- | --- | --- | --- |
| Vitamin A (3a672a) | 750.00 I.E. | Choline chloride (3a890) | 4.20 mg |
| Vitamin D3 (3a671) | 75.00 I.E. | Folic acid (3a316) | 2.10 mg |
| Vitamin E (3a700) | 67.50 mg | Biotin (3a880) | 150.00 mcg |
| Vitamin B1 (3a821) | 6.75 mg | Iron as iron(II) sulphate monohydrate (3b103) | 3.00 mg |
| Vitamin B2 B2 / Riboflavin (3a825i) | 7.50 mg | Copper as copper(II) sulphate pentahydrate (3b405), copper(II) chelate of glycine hydrate (3b413) | 6.75 mg |
| Vitamin B6 / pyridoxine hydrochloride (3a831) | 3.75 mg | Manganese as manganese(II) sulphate, monohydrate (3b503) and manganese chelate of glycine hydrate (3b506) | 10.50 mg |
| Vitamin B12 / Cyanocobalamin | 37.50 mcg | Zinc as zinc sulphate monohydrate (3b605) and zinc chelate of glycine hydrate (3b607) | 60.00 mg |
| Calcium D pantothenate (3a841) | 9.00 mg | Selenium in selenium yeast, from Saccharomyces cerevisiae CNCM I-3060, inactivated (3b810) | 0.15 mg |
| Niacin (3a314) | 18.00 mg | Cobalt as coated granulated cobalt(II) carbonate (3b304) | 0,75 mg |
| | | Iodine as calcium iodate anhydrous (3b202) | 0.15 mg |
Status 02/2021