AGH17000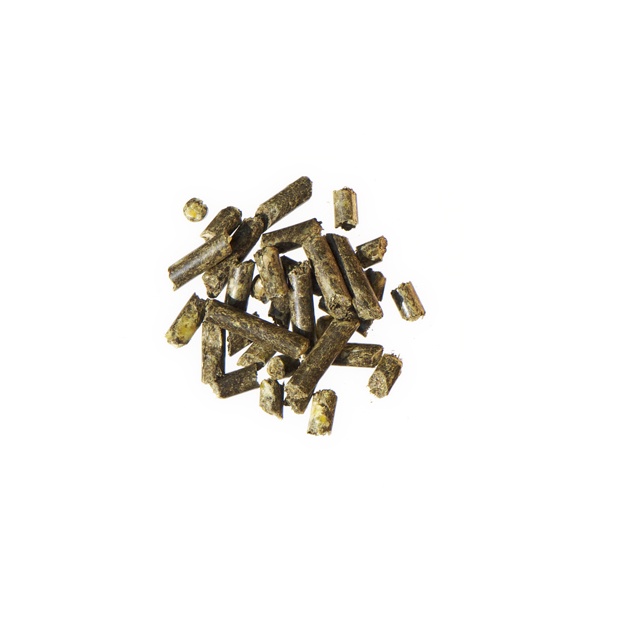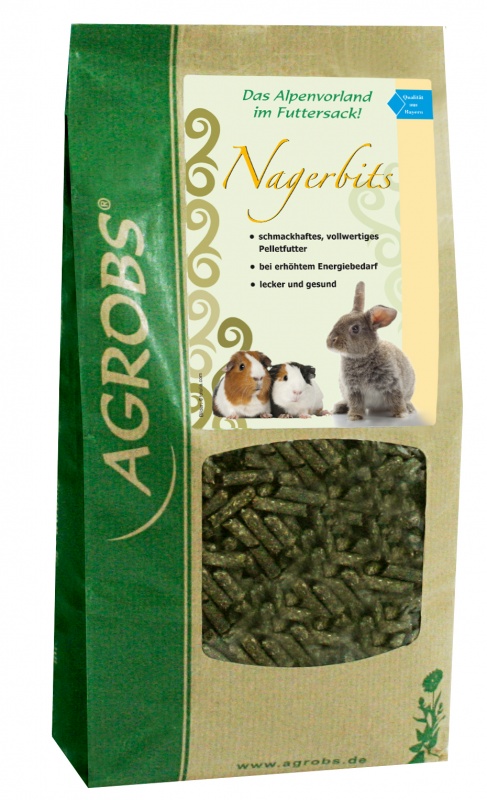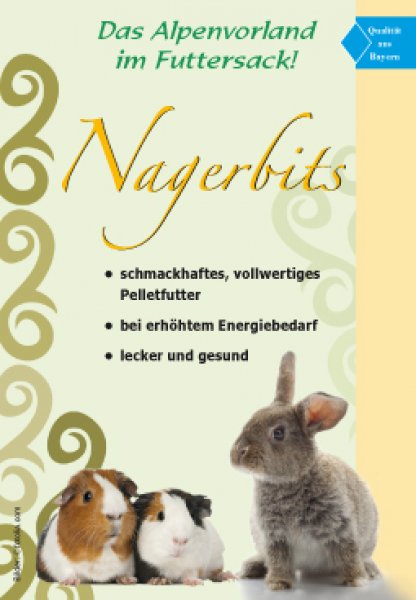 mineralised
organically grown, Naturland-certified
hydrothermally processed cereals
no artificial flavourings or preservatives
Commercial form:
AG Nagerbits 1,5 kg
AG Nagerbits 12,5 kg

Animals with increased physical demands (e.g. growth, pregnancy, lactation) need a supplement of energy-rich food mixed with vitamins, minerals and trace elements.
Nagerbits for guinea pigs and rabbits are made from high-quality, air-dried meadow grass, barley, maize, linseed and a healthy mix of vitamins and minerals.
It promotes a healthy metabolism, digestion and immune system.
Nagerbits for all herbivorous rodents and rabbits...
ideal base feed supplement
contains only organically grown, Naturland-certified ingredients
contains hydrothermally processed cereals
made without flavourings, preservatives or binding agents
Feeding Recommendation
ideal base feed supplement
provide as needed
Composition
Feed additives, Ingredinets:
Air-dried meadow grasses and herbs, red clover, marigold blossoms, rose petals, cornflower blossoms, hibiscus blossoms, lime tree blossoms, sunflower petals
Analytic Components:
| | | | |
| --- | --- | --- | --- |
| Crude protein | 10,50 % | Water | 9,90 % |
| Crude oil and fats | 3,20 % | Calcium | 0,77 % |
| Crdue fibre | 20,40 % | Phosphor | 0,32 % |
| Crude ash | 8,90 % | | |
Additives per kg:
| | | | |
| --- | --- | --- | --- |
| Vitamin A | 750,00 I.E. | Choline chloride | 4,20 mg |
| Vitamin D3 | 75,00 I.E. | Folic acid | 2,10 mg |
| Vitamin E | 67,50 mg | Biotin | 150,00 mcg |
| Vitamin B1 | 6,75 mg | Iron | 3,00 mg |
| Vitamin B2 | 7,50 mg | Copper | 6,75 mg |
| Vitamin B6 | 3,75 mg | Manganese | 10,50 mg |
| Vitamin B12 | 19,50 mcg | Zinc | 60,00 mg |
| Ca-pantothenate | 9,00 mg | Selenium | 0,15 mg |
| Nicotinic acid | 18,00 mg | Cobalt | 0,53 mg |
11/2017