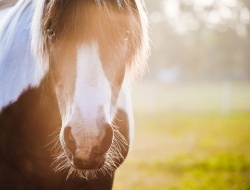 Worms in horses
Horses, like in most animals, can be afflicted by parasites. Any horse can come down with worms, mostly picked up from the intake of worm larvae in pastures. These endoparasites can lead to intestinal inflammation with colic symptoms or even the death of the horse. Horses with worms don't always have recognisable symptoms. Signs such as reduced performance, dull coat, emaciation, a bloated belly, diarrhoea or recurrent colics often point to worms. It is therefore common to carry out a worming programme as a preventive measure. This is carried out up to four times a year: spring, summer, autumn and late autumn/winter. There are various preparations to fight these endoparasites, however none of them cover the entire spectrum and therefore agents are administered according to type, growth stage and the season. Your veterinarian is the best person to consult on choosing the right products. To keep the threat of worms down, hygienic measures should also be carried out in stable and pasture (such as regular poo-picking of the paddocks).
Selective worming, which is popular in Denmark, is an alternative to current worming programmes. Regular worming of the entire stock at intervals without prior diagnostics has led to the alarming formation of resistance to worm cures. In selective worming, the worm infestation is checked, documented and evaluated through regular faecal examinations. This new method serves to maintain the effectiveness of worming products, as each horse is treated individually and as needed. The horse is only treated for worm infestation when the excretion of eggs exceeds a defined threshold value. In principle, selective worming showed that 70–80% of all examined adult horses do not carry in their bodies any endoparasites that are detrimental to their health in the long term. Further information can be found at
www.selektive-entwurmung.com.
Helpful support through appropriate feed Horses
susceptible to worms can be offered certain herbs as a natural way to stop worm infestation. The herbal mixture
Bergsiegel Wurm-Schreck-Kräuter
contains selected herbs with worm-repelling properties that make it difficult for parasites to settle in the intestines.
Bergsiegel Wurm-Schreck-Kräuter
is purely natural and does not unnecessarily burden the organism of the horse. The preventive use of herbal mixtures can also prevent the frequent use of chemicals.
After worming with chemical worming products one should keep an eye on the liver, since this organ must now work at full capacity to break down contaminants in the body. Herbs with a high proportion of tannins and bitter substances (e.g. artichoke, milk thistle) can help meaningfully by relieving the metabolism.
Bergsiegel Kräuter for the liver
naturally support the cleansing and regeneration of the liver.
Both worm infestations and worming programmes can have significant effects on intestinal health. Digestive disorders, bloating, diarrhoea and colic are frequent symptoms of worms, as well as those of worming programmes. The roughage you feed your horse should be of good quality to best support digestion. Hay rations can also be supplemented with hay substitute products such as
AlpenHeu
,
Pre Alpin® Wiesencobs
,
Pre Alpin® Wiesenflakes
,
Pre Alpin® Aspero
or
Pre Alpin® Compact
.
AlpenGrün Mash
also helps keep intestinal tracts healthy through prebiotic Prenatura®-Fibres. The selected ingredients in
AlpenGrün Mash
help maintain intestinal health and provide natural vital substance. It boosts metabolism and helps the intestines eliminate toxins more quickly.
Our tip
: Feed
AlpenGrün Mash
daily for 3 - 4 days before starting the worming programme and a few days after it ends.
The healthier the horse, the better it can recover from worms. You should also take care to ensure sufficient mineral intake, for example with
Naturmineral
,
Weidemineral Cobs
(during the grazing season) or
Seniormineral
(for horses that need extra nutrients.) The selected compositions of these mineral feeds supply the horses with all necessary vital minerals and trace elements, boosting the immune system and keeping your horses healthy and happy.

Dr. med. vet. Katharina Boes
August 2015 ©AGROBS GmbH
---
Sources*:
Menzel, M.: Selektive Entwurmung der Pferde in einer Pferdepraxis: Einführung sowie wissenschaftliche und betriebswirtschaftliche Analyse. Dissertation, LMU Munich, Faculty of Veterinary Medicine, 2013
Dietz O., Huskamp B.: Handbuch Pferdekrankheiten. Enke Verlag Stuttgart, 2006
(* The references refer to the technical content of the text and not to the product recommendations.)